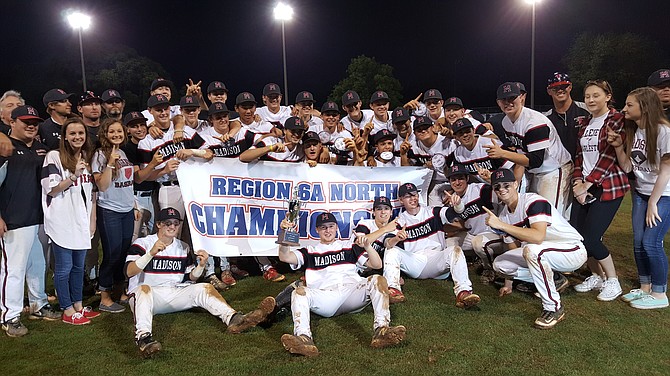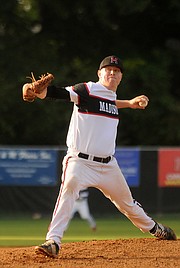 Matt Favero stood on the Madison High School baseball field following Friday's 6A North region championship game and recalled the mellow mindset he possessed while returning to the mound for the top of the fourth inning.
Madison's starting pitcher had held Chantilly without a hit for the first three innings. In the bottom of the third, Favero stepped to the plate and gave himself some breathing room, crushing a three-run homer.
"I was relaxed going back out [to the mound]," Favero recalled. "I knew I had some run support out there, so I could just pound the [strike] zone and keep doing my thing."
With Favero back on the hill, his teammates could have relaxed, as well.
The junior left-hander allowed just three hits in 6-plus shutout innings and the Madison baseball team captured its first region championship since 2003 with a 9-0 victory over the Chantilly Chargers.
Favero took a no-hitter into the sixth inning before surrendering a one-out infield single to Chantilly catcher Grant Bain. Designated hitter Matt Padeway followed with a clean single to right before Favero got out of trouble with back-to-back fly-ball outs.
Favero was pulled after he allowed a leadoff single to Chargers second baseman Kordell Hutzell in the top of the seventh. Favero finished with five walks and three strikeouts, and did not allow a Chantilly runner to reach third base.
Junior right-hander Pete Nielsen got the final three outs in relief.
"Matt was awesome," said Nielsen, the Warhawks' shortstop and leadoff hitter. "He's my cousin, so it's awesome to have family do that. He just pounded the zone and did his thing.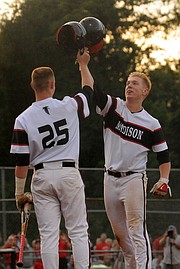 "That's why he's all-region."
Chantilly starting pitcher Forrest Wagner suffered the loss, allowing five earned runs on three hits in three innings. The junior left-hander walked four, hit one batter and struck out five.
Nielsen led off the bottom of the third inning with a solo home run to left field, giving the Warhawks a 1-0 lead. Madison then loaded the bases with one out, and left fielder Bryan Harthun extended the lead to 2-0 with a sacrifice fly.
That's when Favero stepped to the plate and launched a three-run homer to right-center, boosting the Warhawks' advantage to 5-0.
Favero finished 2-for-3 with a double. Senior right fielder Owen Socher went 1-for-4 with an RBI. Junior first baseman Jimmy Goldsmith had a two-run single, and junior third baseman Carlo Alfano was 1-for-3.
"Our goal this year was to win the region," said Mark Gjormand, who is in his 20th season as Madison head coach. "Typically, we say let's win a state championship, but this year [the goal] was to win the region, so it's nice to accomplish a goal this year."
Madison has had strong teams in recent years but failed to advance past the region semifinals.
In 2010, Madison lost to eventual state champion West Springfield in the region semifinals. The Warhawks returned to the region semis in 2011, but fell short against a South County team that won its first 28 games before losing to Great Bridge in the state final.
Madison won 22 straight games in 2013 before losing to Lake Braddock in the region quarterfinals, and won 21 of 22 in 2014, but ended its season with a loss to McLean in the region semifinals.
What is different about this team?
"I think it was the adversity we faced early," Nielsen said. "[We] lost a couple games; we had to kind of find ourselves, our identity. We just found it and now we're just rolling."
After a 6-0 start, Madison dropped three of four, including an 11-3 loss to Vienna foe Oakton on April 11. On May 8, a 4-0 loss to McLean cost the Warhawks the No. 1 seed in the Conference 6 tournament.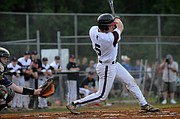 Madison would bounce back, winning conference and region titles. Friday's win was the Warhawks' eighth in a row and improved their record to 22-5.
"Right now, we're playing our best baseball at the right time," Gjormand said. "Last couple years we've won 22 in a row, [21 of 22], and I was worried [because] sometimes you can get stagnant. I think right now, it feels like they've caught fire and they're playing their best."
Madison will face the 6A South region runner-up in the state semifinals at 7 p.m. on Friday, June 12 at Robinson Secondary School. Chantilly (20-6) will face the 6A South champion at 3 p.m. on Friday at Robinson.
Madison has three state championships in program history, the last coming in 2002. Chantilly won the 2014 6A North region championship and advanced to the state final, where the Chargers lost to Western Branch 6-4.
Socher, Favero and senior pitcher Brian Eckert received first-team all-region honors for Madison. Chantilly shortstop Brett Norwood and pitcher Matt Hogle were also on the first team. Chantilly head coach Kevin Ford was selected Coach of the Year.