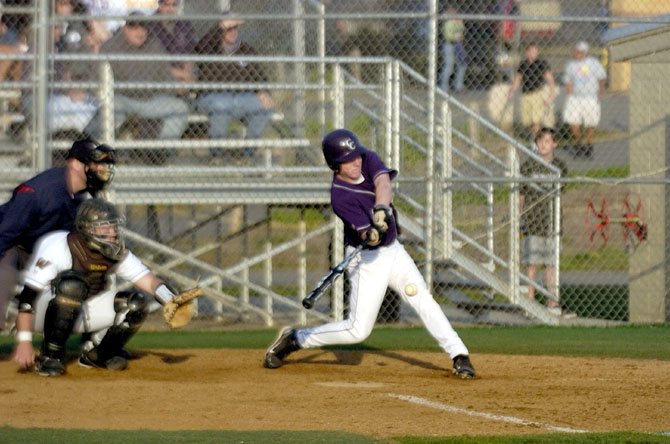 The winning ways for the Chantilly High baseball team have continued, from the Chargers' strong showing at a spring break tournament to its more recent victories in Concorde District games.
The Chargers, under head coach Kevin Ford, won both of their district games by one run last week. On Tuesday, April 10 at Westfield High, Chantilly edged the Bulldogs, 4-3. Then in a home game last Friday night, April 13, the Chargers defeated Oakton High, 3-2.
In the win over Oakton, Cory Donovan had a pair of hits and three RBIs for Chantilly. Starting pitcher Tom Wood got the win in six innings of work, allowing two runs and four hits. Chris Fraser earned the save in working the seventh inning.
Going into this week, Chantilly held an impressive 9-2 overall record with a 2-0 district mark. Ford's team was scheduled to play district road games this week versus Herndon on Tuesday night, and at Robinson this Friday night, April 20 at 6:30. The Rams (6-6) are coming off of recent wins over both Oakton and Westfield.
"We have been very happy with the [9-2] start," said Ford. "In both our losses, we were not on top of our game as a team."
Those lone two setbacks both came against non-Northern Region opponents. The first came in Chantilly's third game of the season — a 4-1 loss at Forest Park High (Woodbridge). The latter loss came against Osbourn Park High (Manassas), 10-0, in the championship game of the "Let's Play 2 Tournament" over spring break week on April 3. Osbourn Park was the host team of the tournament.
CHANTILLY HAD WON its first three games at the spring break tournament to reach the finals game against Osbourn Park. Those earlier tournament wins came over Woodbridge High, 4-3, on March 31; Mount Vernon High, 3-2, later that same day; and Potomac High, 8-1, on the evening on Monday, April 2.
"Outside of the last game [versus Osbourn Park] where we did not come to play and ran into a team that was hot that night, we pitched and played defense very well," said Ford, of his team's play over the four tournament games. "Our pitchers have been throwing strikes and we have been getting outs in the field. At the plate, we are not where I would like us to be, but in close games we are coming up with big hits and executing when we need to."
Chantilly's earlier season wins came over Edison, Stone Bridge, Stonewall Jackson High (Manassas), and Battlefield High (Haymarket). The Chargers, going into spring break games, were 4-1 with the lone loss coming from Forest Park.
Chantilly's top hitters on the season thus far have been senior third baseman Sam Hellman, senior Casey Gittings, and junior Sonny Romine. Senior catcher Kevin Johnston, Ford said, has been outstanding behind the plate. On the pitching mound, the Chargers have received solid work from seniors Caleb Reinhardt and Wood.
Over the next month, Chantilly will continue to be challenged as it faces strong competition in the Concorde District.
"Moving forward we are going to have to keep doing the same kinds of things in terms of executing, pitching and playing good defense," said Ford. "Our district schedule is going to be a battle every night and could come down to who executes."