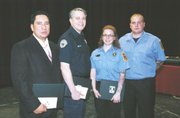 Send announcements or events, which are open to the public at no or minimal cost, to The Loudoun Connection, 7913 Westpark Drive, McLean, VA 22102 or e-mail <a href="mailto:loudoun@connectionnewspapers.com">loudoun@connectionnewspapers.com</a>. Deadline is Friday, two weeks before the event. Photos/artwork encouraged.
Susan Smith Feaster, chairman of the board and CEO of the World Leadership Institute, was appointed to the State Lottery Board. Jeffrey K. Windland of Ashburn, vice president and assistant treasurer of Orbital Sciences Corporation, was appointed to the Virginia Commercial Spaceflight Authority.
Sarah E. Burnheimer of Ashburn and Jacqueline A. Spillias of Leesburg were named to the dean's list at Coastal Carolina University for the 2008 fall semester.
Brig. Gen. John Johns, U.S. Army, retired, a resident of Leisure World of Virginia, was one of 16 retired military officers invited to the White House Oval Office to witness President Barack Obama's signing of executive orders closing the detention center at Guantanamo Bay, Cuba, and unequivocally banning the use of torture by the U.S.
Air Force Airman Miguel E. Lopez has graduated from basic military training at Lackland Air Force Base, San Antonio, Texas. During the six weeks of training, the airman studied the Air Force mission, organization, core values, and military customs and courtesies; performed drill and ceremony marches, and received physical training, rifle marksmanship, field training exercises and special training in human relations. He is the son of Marcelo Lopez of Mossy Brook Square, Ashburn and Cecilia Mendoza of Laura Ratcliff Court, Centreville. The airman is a 2007 graduate of Centreville High School.
Rachel Lee of Ashburn, a sociology major at Grove City College (Pa.), has been elected by her peers to serve as Spring Queen on the college's Spring Court. Lee, the daughter of Walter and Kathy Lee, is involved with New Life, chapel dance and is senior chair of ushering for parents' weekend. Spring Court festivities, which are held in conjunction with parents' weekend, is May 1-3.
Pedro Pallarosa, an employee of St. Theresa School and a native of Lima, Peru, was sworn in as an American citizen Feb. 5. The school had a "Red, White and Blue" dress out day in celebration with the teachers providing a breakfast. The students assembled to give Pallarosa a $1,000 check from their fund-raising efforts made out to the Holy Childhood Association for the children in Peru. The students also presented Pallarosa with cards from each of the classes and given an American flag which was flown over Mt. Vernon this past Martin Luther King Holiday.
Loudoun County Sheriff's recruits took the top academic spots and leadership roles in the 119th session of the Northern Virginia Criminal Justice Academy's Basic Deputy Sheriff School. Recruit Deputy David L. Hill took the Directors Award for the Basic Deputy Sheriff School for being first in his class in the session and Recruit Lisa M. Beardsley took second. Recruit Aaron M. Kozikowski received the Emergency Vehicle Operators Course Award. Deputy Marty Messemer finished second in both Firearms Proficiency and Emergency Vehicle Operations.
The recruits, who are now state certified in basic law enforcement, are Lisa M. Beardsley, Chad T. Braun, Mark A. Childs, Jesus J. Diaz, David L. Hill, Casey L. Johnson, Ronald A. Kelly, Jr., Aaron M. Kozikowski, David C. Martin, Marty J. Messemer, Christopher T. Miller, David R. Rizer, Wade D. Smith and Curtis E. Toy.
Thomas M. Crutchfield, CPA and partner of Ryan, Sharkey & Crutchfield LLP, has been named chairman of the audit committee for the Loudoun County Chamber of Commerce. In his current role, he leads the firm's outsourced accounting services practice. His primary focus is on assisting clients with financial reporting and assurance issues, as well as tax compliance and planning, internal audit services and employee benefit plan matters.
Loudoun Youth has hired Christina Druther to serve as the group's executive director. Druther will assist the board in supporting and developing programs that help teens become confident, engaged and contributing members of the community.