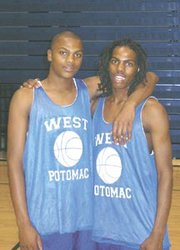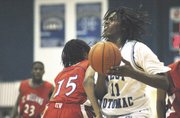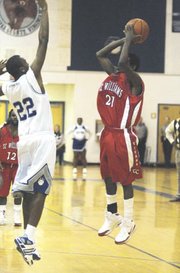 Ask West Potomac junior Martez Redfearn how he was able to average close to 25 points per game during a recent three-game winning streak for the Wolverine boy's basketball team and his answer is simple.
"I've been practicing a little harder," said the dreadlocked forward with a smirk.
Why the grin? Well, turns out the best competition for Redfearn in practice has come from little brother Marvel, the lone freshman on West Potomac's varsity squad this season.
The two spend most weekends on the court at nearby Gum Springs Community Center going at each other in sets of one-on-one contests that have an intensity borne out of a brotherly rivalry no ordinary high school game can emulate. Even their coach has taken notice.
"I match them up in practice on purpose because I know they aren't going to back down from each other," said West Potomac coach David Houston III. "They're going to talk a little trash, but it has helped the team out a lot."
When asked what that chirping on the court entails, Marvel would only smile and concede that "sometimes, when we are in practice scrimmaging I might throw a little shove or something and he gets mad."
<b>MARTEZ HAS PUT</b> that anger to good use leading the Wolverines in scoring this season, averaging more than 15 points per game helping West Potomac up its record to 5-6 after a 2-4 start to the year. The Wolverines lost to Lee Tuesday night, 78-70.
The elder Redfearn, now in his third year on the varsity squad at West Potomac, has finally hit his stride after a midseason injury cut short a promising sophomore year.
"He can score, he's been able to do that since I've known him as a seventh grader, but he's now learning to score within our system," said Houston of his star player's development.
The true wild card for Houston and his team, though, is Marvel, who is just now beginning to realize the potential he has for the future. Already taller than Martez at 6-foot-3 and the youngest of eight Redfearn children, Marvel, 14 years old, was elevated to the varsity level because Houston thought he wouldn't progress as much basketball-wise dominating freshmen or JV competition.
"He's probably more versatile than his brother," said Houston of Marvel, who has come off the bench this season. "He'll probably surpass his brother middle of next year or so. Not even kidding. He's got it, it's just he's a freshman so he's goofy sometimes. Plus, he's got a lot of pressure being the only freshman on the varsity."
<b>FOR NOW, THOUGH</b>, Marvel plays second fiddle to his older brother. But the talent both have makes the games at Gum Springs interesting. Marvel already says his outside shot is better than his brother's, but that Martez is the quicker of the two. Their playful back-and-forth can mean some highly contentious and competitive games when the two decide to go full bore.
"I let him know I'm the older brother and you can't beat me," said a laughing Martez.
All kidding aside, the two brothers may be combatants on the practice court, but they've also made it a point to help each other out. As Marvel feels his way out on the court, Martez has taken him aside to give pointers, like where to be on the court and how to deal with being a freshman at a level normally dominated by 17- and 18-year olds.
"I've definitely noticed they've gotten closer because of this season," said their father, Melvin Redfearn. "Seeing them on the floor, it feels good."
Except, that is, when they get together for another round at Gum Springs. Neither Martez nor Marvel knows which one will come out on top, but they both understand it's about more than winning.
"It's not all about getting on each other," said Martez. "It's about bringing intensity because if we keep playing the way we're playing, we could both go far as part of this team."