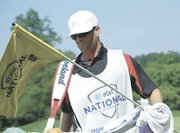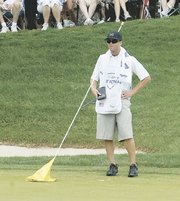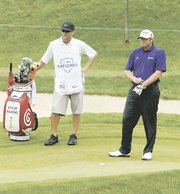 The golfer-caddie relationship is rare in sports. While pitchers and catchers collaborate closely every fourth or fifth game, they have other teammates on the field. The same is true for quarterbacks and centers. But in golf, the caddie doesn't just carry the bag, he measures yardages, reads putts, quiets the gallery, keeps tabs on the player's mental state and occasionally lines up the golfer before a shot. The most skilled PGA Tour caddies are indeed co-players.
The Tiger Woods-Steve Williams and Phil Mickelson-Bones MacKay teams are great examples of smoothly functioning and successful player-caddie teams. Fairfax native and third-year PGA Tour player Steve Marino hopes that he and his caddie — G.W. Cable of Oakton — can eventually emulate the success of those pairs.
Cable has been on Marino's bag for the past 12 months. Marino called him last June and asked him to caddie for the 2008 AT&T National. The two had known each other since their junior golf days in the 1990s, and Marino hoped a caddie change would help his play on Tour.
"I was working at Lakewood Ranch Country Club in Bradenton, Fla., when Steve called," Cable said last week at Congressional. "We agreed to a week-to-week tryout."
"I wanted to change it up and try a new caddie," Marino said last year. "So I gave him a call, figured I would get him out of the cart barn, so he wouldn't have to wash carts for a couple weeks."
<b>THE DECISION</b> looked sound when Marino held the lead, following a smooth 5-under 65 at last year's AT&T National. Although he faded down the stretch, finishing T-24, he and Cable meshed immediately. They have been together since. "I hope to stay with him as long as he plays on Tour," Cable said.
Theirs is a mutual admiration society. "G.W. is a great caddie," Marino told the media last week. "He's a very good golfer and he makes it fun out there. He helps keep it light and that's what I need."
Marino's plan seemed to be working at this year's AT&T National, at least through the third round. At the start of the final day, he stood at 4-under, six shots back of the co-leaders, Woods and Anthony Kim. But he ballooned to a six-over 76 on Sunday and fell out of the hunt. Nonetheless, Marino is now 27th on the 2009 PGA money list with $1.46 million earned so far.
A caddy's salary is commission-based, depending on how well their golfer does. Most make a base of between $1,000 and $1,500 a week, with a certain percentage of a golfer's earnings from week-to-week added on, a number that is contingent on a player's performance.
<b>WHEN CABLE</b> graduated from Oakton High School in 1995, his golfing resumé suggested a future as a Tour player, not one carrying golf bags. A three-time All-Met, Cable twice won the Frank Emmett Schoolboy, one of the Washington area's top junior tournaments. He also won an American Junior Golf Association event in 1994 and gained honorable mention honors on the 1994 Rolex Junior All-American team.
Skipping college, Cable won the prestigious Dixie Amateur in 1997. He soon turned pro and, between club-pro jobs, wandered the wilderness of mini-tours. He unsuccessfully sought a PGA Tour card through Q-School several times. Although he played his way to the 2007 Q-School finals in December 2006, he fell short of qualifying for the Tour.
"By that point, my back was in terrible shape," Cable said. "I finally realized that I was never going to get to the Tour as a player." Cable had always taken a vicious swing at the ball. "I used to swing like a maniac," and he said that by late 2006, his body had simply worn down.
Cable rarely plays now, and when he does, it's usually casual matches with Marino during off weeks. He is single and lives in Sarasota, Florida. His parents left Oakton when they retired and now also live in Sarasota.
"I love being out here," he said at a spot near Congressional's bag room. "You can't beat the life."