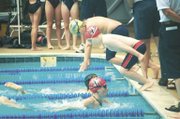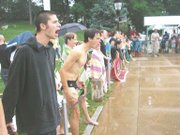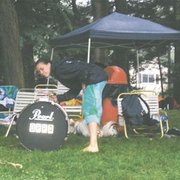 The race in the pool had just ended Saturday morning, when 16-year-old Carolina Galdiz began sprinting up a hill at Tuckahoe Recreation Club in McLean to bang a small drum as hard as she could five times.
It's a tradition for the Donaldson Run swim team of Arlington, every time one of their swimmers wins a race, somebody on the team grabs a stick and hits the drum in celebration — five times since a first-place finish nets the team five points.
"It just brings out a lot more spirit and little kids get more out of it when they see older kids excited," said Gitez, designated drummer for this meet.
And though Donaldson Run lost to Tuckahoe, 260-117, in its first Division 2 meet of the Northern Virginia Swim League season amidst on-again, off-again rain showers, nothing could dampen the enthusiasm and buzz created by the start of another summer swimming campaign.
<b>IN AN AREA</b> that has become known for its swimming thanks to the Olympic exploits of several area athletes like Katie Radloff and Tom Dolan of Yorktown High School fame, the beginning of summer brings out the quirky celebrations, wild costumes, funny cheers, and even creative face paint displays.
The competitive swimming circuits of the winter may be top notch around here — Maryland-based programs Rockville Montgomery Swim Club and Curl Burke are the No. 1 and 2 ranked club teams, respectively, in the entire country — but ask any swimmer and they'll say their love for the sport was born in the summer, in less-pressurized atmospheres like the NVSL.
Because most importantly, summer swim season reunites a family of sorts, the kind that has been built on a ritual of fast swimming, encouragement, and fun each weekend over many years.
"It's like time just stops in the summer," said 15-year-old Yorktown swimmer Lydia Carpenter, one of the "older kids" on the Donaldson Run swim team. "Once you hit the summer time, it's just a fun season. We've been doing this since we were six years old, it's a big part of our lives now."
"It's the team, you get out of bed every morning for that," said 17-year-old Yorktown student Greg Crosswell, as he stood wet from head to toe thanks to a combination of pool water and rain drops. "There's no place we'd rather be."
The team aspect in swimming is unique from other sports. While there are technically no teammates to help you out in the water, there are plenty providing encouragement from the side of the pool.
And it's not often a high school senior is cheering on an elementary school student, but the NVSL, now in its 53rd year of existence, brings children of all ages together in one, fun-filled setting. This season more than 15,000 swimmers will dive into the pool in NVSL meets.
"Just being with everyone outside of school is what I look forward to," said 10-year-old Williamsburg Middle School student Chris Radke, adding that he planned on following in the footsteps of Donaldson Run's current crop of older swimmers and participate in the NVSL well into high school. "Every year, I have a better time than last year."
<b>OVER AT DOMINION HILLS</b>, the summer swim season also got off to a rousing start, despite the less than ideal weather. In a Division 8 matchup, Dominion Hills defeated Commonwealth Pool of Fairfax, 239-154.
Double winners included eight-year old Luke Hepp in the freestyle and backstroke, 10-year-old Kara Fox in the freestyle and breaststroke, 14-year-old Abby Young in the freestyle and backstroke, and 18-year-old Andrea Oaxaca in the freestyle and butterfly.
In Division 1, Overlee's meet with Hamlet was shortened due to thunder and lightning, but it didn't stop the Flying Fish from claiming a 227-115 victory over Hamlet.
Overlee, last year's Division 1 champion, had seven double winners: Ryan Baker (11-12 boys' back and fly), John Thomas Dolan (8&under boys' free and back), Tyler Gehrs (15-18 boys free and fly), Michaela Morrison (9-10 girls free and breast), Nicholas Pasternak (9-10 boys free and fly), Rachel Robertson (11-12 girls back and breast), and Maggie Shipley (8&under girls free and breast). Single event winners for Overlee included John Aldinger (9-10 boys breast), Katie Bennett (13-14 girls back), Sean Coleman (11-12 boys breast), Bridget Condron (13-14 girls breast), Emma Day (9-10 girls fly), Jonathan Day (9-10 boys back), Suzanne Dolan (11-12 girls free), Rebecca Horner (11-12 girls fly), Virginia Hosty (8&under girls back), Abigail Ortmayer (15-18 girls breast), Izzy Pasternak (13-14 girls fly), Tate Rusby-Wood (8&under boys breast), Olivia Shipley (15-18 girls free), Liana Tai (15-18 girls back), and Kaitlin Wolla (15-18 girls fly).
To have team's swim results posted in the paper or online each week, contact sports editor Mark Giannotto at mgiannotto@connectionnewspapers.com