The Washington Golf and Country Club Lightning travelled across the river to Congressional Country Club for its third Division A dual meet of the season on July 3. Once again, the Lightning dominated the competition. The Lightning won 37 of the first 47 events — with wins in every age group and 1-2-3 sweeps in multiple events. Of particular note were the Lightning's younger swimmers — the 8U and 10U girls and boys won every single event in their age groups. Reprieve finally came for Congressional at the hands of Mother Nature — the meet was called with just three events to go due to lightning. The final score was 300-142.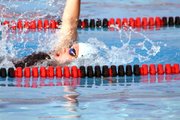 Triple winners were: Jillian Johnson (girls' 10U free, 10U back, 10U fly); Richard Gentry (boys' 12U IM, 12U breast, 12U fly); and Ryan Baker (boys' 14U free, 14U back, 14U fly). Double winners were: Avery Nassetta (girls' 8U free, 8U breast); Angus Ricks (boys' 10U free, 10U breast); Nolan Musslewhite (boys' 10U back, 10U fly); G.G. Richmond (girls' 12U IM, 12U back); Amanda Didawick (girls' 18U IM, 18U fly); and Daniel O'Berry (boys' 18U IM, 18U free). Single winners were: Pamela von Seelen (girls' 8U back); Sophie Yoder (girls' 8U fly); Alex Gerlach (boys' 8U free); Cab Fooshe (boys' 8U Back); Jack Carman (boys' 8U breast); Paddy McCarthy (boys' 8U fly); Amanda DiMeglio (girls' 10U breast); Grayson Offutt (girls' 12U breast); Petie Nassetta (girls' 12U fly); Charlie Moore (boys' 12U free); Carson Wood (boys' 12U back); George Cranwell (boys' 14U breast); and Will McMahon (boys' 18U back). In addition, the Lightning dominated the relay events, with wins in the girls' junior medley relay (Linsday Lukehart, Richmond, Johnson, Avery Nassetta); the boys' junior medley relay (Wood, Cranwell, Gerlach, Musslewhite); and the girls' senior medley relay (Didawick, Faith Palmer, Petie Nassetta, Caroline Otteni).
The Lightning returns to Congressional on July 12 for Divisional Relays.
WGCC Dive Team Beats Bethesda
The WGCC Lightning started their dive season with a victory over the Bethesda Tigers on June 27 at the Washington Golf and Country Club. WGCC won with a final score of 61-16. Highlights include wins for Pamela Grace von Seelen (8U girls), Harper Thornett (8U boys), Meredith Peterson (10U girls), Olivia Egge (12U girls), Abby Didawick (14U girls), Will Boinest (14U boys), Mason Nassetta (18U girls) and second-place finishes for Luke Maloney (10U boys) and Angus Ricks (12U boys).
Overlee Takes Down Tuckahoe
The water was hot, the weather was hotter, and the swimming was sizzling on the third week of NVSL competition. Overlee swam to victory in the inaugural meet of their new pool, outscoring Tuckahoe 248-172.
Although Tuckahoe came out strong winning the boys' 8 & under freestyle event, the girls' 8 & under freestyle was easily won by Overlee's Sophie Yoder. The 9- & 10-year-old boys' freestyle race was the day's first nail-biter as Overlee's Robert Ridgeway touched out Tuckahoe's Chris Leiss at the finish. Freestyle winners for Overlee included: 11-12-year-old swimmer Jonathan Day, 13-14-year-old Katherine Lundy, and 15-18-year-old swimmer Torey Ortmayer. When freestyle was over, each team had won five events.
The duel in the pool continued into backstroke with Tuckahoe winning the first two races. Robert Ridgeway (9-10) provided the first backstroke win for Overlee. Two events later, 11-12-year-old backstroke swimmers Jonathan Day and Nick Pasternak would go first and second. This was quickly followed Ryan Baker claiming first with teammate Nick Morales coming in for third in the boys' 13-14 race. The 13-14 girls would do a repeat with Michaela Morrison taking first and Sophie Bennett placing third. Senior boys Nicholas Brooks and Jason Henley added another first and second to move Overlee into a power position.
Breaststroke proved to be the undoing of Tuckahoe with Overlee winning seven of 10 events. Two races were particularly memorable as Ellie Ridgeway out-touched Tuckahoe's Leah Horan in the girls' 11-12 50-meter breaststroke. The next race, boys' 13-14 50-meter breaststroke would prove to be a third nail-biter with Overlee's Brady Almand out-touching Chase Brown from Tuckahoe. The five other breaststroke winners from Overlee were: Lauren Hartel (8U), Paul Kinsella (9-10), John Aldinger (11-12), Suzanne Dolan (13-14) and Rachel Robertson (15-18).
Overlee held a sizeable lead by the butterfly events. Again, Overlee captured another seven of 10 events. The 2012 new dual meet 8 and under butterfly event provided 8-year-old Sophie Yoder the opportunity to break the team record set by Allison Addy on Sept. 1, 1984. Prior to the 2012 ruling, 8 & unders could only participate in the 25-yard butterfly event at an NVSL All-Star meet. The 28-year-old record was achieved when Overlee held an NVSL All-Stars Meet. In addition, she became the first swimmer to obtain a record in the new competition pool. Overlee's winning butterfly swimmers were: Claire McNamara (9-10), Nick Pasternak and Isabella Lee (11-12), Ryan Baker and Suzanne Dolan (13-14), and Nicholas Brooks (15-18).
As heat intensified, Tuckahoe won the boys' 8U free relay, but the Overlee girls' 8U relay quickly fought back to win. The 9-10 boys' 100 relay teams were equally matched and Overlee's John Sullivan fought to win at the wall for the Flying Fish, out-reaching the Tigers' Owen Thomas. As the water continued to boil, the Overlee boys' 11-12 relay team of Nick Pasternak, John Aldinger, Sam Ellison and Jonathan Day recorded a new pool record of 1:02:81, breaking the 2009 old pool record 1:02:94, set by Timothy Aldinger, Sean Coleman, Ryan Baker and Andrew Loranger. Overlee's other winning relay teams were: 9-10 girls' 100 SC medley, 11-12 100 girls' medley, 13-14 100 girls' medley, both the 15-18 boys' and girls' 200 medley and the boys' mixed age 200 freestyle relay.
AKC Swims Past Sequoia Farms
The Arlington Knights of Columbus Holy Mackerels swam past the Sequoia Farms Stingrays, 278-166, at AKC July 7 to earn their third straight win of the season in Colonial Swim League Blue Division action.
Leading the Mackerels in individual scoring were Lucy Khlopin, Zach Rosenthal and India Seldin, with four wins each. Kathleen Butler earned a triple win, and Ashley Deabler, Elizabeth Dufrane, Emily Dufrane, Nicolas Reeves and Jake Smerchansky each contributed double individual wins.
Mackerels earning single individual wins were Isabel Barnidge, Meghan Dalbec, Drew Hudspeth, Mac Marsh, Leonardo Watkins and Matthew Zischkau.
AKC swims next against Countryside Saturday, July 14, at home.