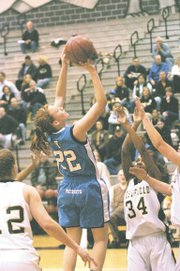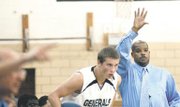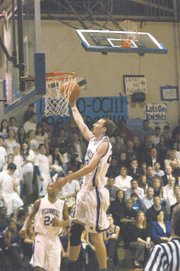 In the past two weeks, numerous Arlington basketball players were named to all-district and all-region teams due to their strong play during this season.
For <b>Yorktown</b>, senior LaNia Charity was named to the girl's all-Northern Region second team and all-National District first team after averaging almost 11 points per game this season. Sophomore Lena Negri was named to the all-district second team, while seniors Lindiwe Rennert, Brooke Huffman, and Shannon Briggs were all honorable mention all-district. Senior Carla Manger was named to the all-defensive first team.
On the boy's side senior Simon Kilday was also named to the all-Northern Region second team and all-National District first team after scoring close to 18 points per contest this year. In addition, junior Mike Veith garnered second team all-district honors, while teammates Jack Earley and Will Carey were named honorable mentions for the district squad.
For <b>Washington-Lee</b>, junior Shante Waller picked up third team all-region honors and was named first team all-National District. Teammates Jen McCue, Janese Jackson, and Brianna Hogan were all named to honorable mention all district. On the boy's side, seniors Gavin Treweek and Charlie Fuller both made the all-district honorable mention list.
<b>Wakefield's</b> Veronica Paz was named to the National District's first team, while senior Johnathan Ford was named to the all-region second team and first team all-district.
Check back next week to see if any Arlington hoops stars made our all-Connection team this year.
<b>O'Connell Hockey Wins Title</b>
The Bishop O'Connell boy's ice hockey team took home the Northern Virginia Scholastic Hockey League title this past weekend, defeating Forest Park, 6-5, in overtime at the Capitals Kettler Iceplex in Arlington.
Sophomore Chris Clark bailed out the Knights with his game winner after O'Connell had squandered a 4-1 lead in the second period. The game winner was Clark's second goal of the game.
Dramatics also saved O'Connell (16-6-1) in its semifinal round upset of top-ranked Stone Bridge. Sophomore Alex Guerrere tallied the game-winning goal with just 58 seconds remaining in overtime to give the Knights a 4-3 victory. The win ended Stone Bridge's 20-game unbeaten streak. Guerrere's older brother, Nick, also had a goal for the Knights.
<b>O'Connell Loses in WCAC Quarterfinals</b>
All season long, the WCAC has proven to be the toughest boy's basketball league in the area. For better or worse, the Bishop O'Connell boy's basketball team learned that lesson this past weekend, getting upset by Paul IV in the quarterfinals of the league's playoffs by a score of 52-34.
Paul IV jumped on O'Connell early, building an 18-4 first-quarter lead that it would never relinquish. The Knights tried valiantly to push the lead under 10 at a couple points in the second and third quarters, but were unable to fully recover from the poor start. O'Connell was 14-4 in league play during the regular season, while Paul IV was just 7-11. The Knights had defeated Paul IV by 24 points on Feb. 15.
Senior David Eismeier led O'Connell (22-8 overall, 14-5 WCAC) with 11 points, while junior Kendall Marshall chipped in nine points. Despite the loss, the O'Connell will still take part in the Virginia Independent School League state tournament, which begins next week.
The Bishop O'Connell girl's basketball team also fell in the WCAC quarterfinals, losing to Good Counsel, 67-60. Seniors Kelly Horvath and Meg Lagos led the Knights in scoring with 19 and 12 points, respectively.
<b>Youth Gymnastics</b>
The Arlington Tigers, an area boy's youth gymnastics team, took third place in the President's Day Invitational two weekends ago in Woodbridge, Va. It was the Tigers' first team trophy ever. Corwin de Boor led the team, taking first place in the all-around competition for boy ages 10 and up. Julian Gagnier earned third-place honors on the parallel bars for the 8-9 age group. Scott Sawicki also came in third place on the horizontal bar for the 10 and up age group.
The following boy's qualified to compete in the Virginia Boy's State Championship, to be held March 21-22 in Richmond: Nolan Kataoka, Collin Carey, Corwin de Boor, Scott Sawicki, Ben Bloom, Julian Gagnier, Jonah Margosis, and Shayne Richmond.