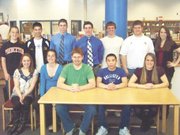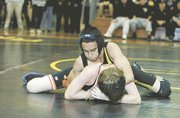 <b>Esposito to Davidson</b>
Robinson senior Joey Esposito, a first team All-Northern Region offensive tackle on the Ram football team, recently committed to continue his gridiron career this fall at Davidson College, a Division I-AA program located in North Carolina. Esposito made his choice over Washington-Lee and several Ivy League schools. The 6-foot-2, 260-pounder has a 3.6 GPA with an International Baccalaureate curriculum, and he scored a 1,350 on his SAT. He was a team co-captain for Robinson this past fall.
<b>Robinson Crew Cruises</b>
In their first action of the season, both the Robinson boys' and girls' crew teams had strong showings this past weekend for the Polar Bear Regatta at Sandy Run Regional Park in Fairfax Station. The teams placed in all four varsity 8 races. Both girls' varsity boats posted first-place finishes. The boys' varsity 1 boat took first place, while the boys' varsity 2 boat was third. Both Robinson teams will return to action this coming weekend as they'll race in the Walter Mess Regatta at Sandy Run.
<b>Soccer Tournament Upcoming</b>
The Fairfax County Police force, through a program titled "United for the Sport," will host a soccer tournament for children ages 6 to 16 on Saturday, April 11, from 10 a.m.-1 p.m., at Franconia Park, 6432 Bowie Drive, Springfield. As many as three games will be happening simultaneously, with players divided by age group. Uniforms will be provided, along with a short crime and gang prevention program to kick-start the event. Participation is free. The "United for the Sport" program started as a single tournament last July, and, from there, Fairfax County's teen and human services agencies have teamed together to keep the program running with Monday night practices at Lynbrook Elementary and Irving Middle Schools.
<b>Fast Start Fades</b>
The Jefferson girls' soccer team started the season with two wins in its first three games. The Colonials began with a home-opening win over the Lee Lancers, in which Kayley Sullivan (Lorton) secured the 1-0 victory by scoring with about 10 minutes left in the game. Goalkeeper Katie Martinez (Springfield) got the shutout for Jefferson. Following a 2-0 loss to Herndon, the Colonials beat the Yorktown Patriots, 2-1, on Monday, March 23. The girls' team started Liberty District play at home on Thursday, March 26 with a 2-1 loss to Langley and a 4-1 loss at Madison on Monday night. The Colonials will try to snap the skid with a home date against McLean on April 14.
<b>Edison Tournament April 17</b>
Edison High School's marketing students are hosting the 2009 All-Star Basketball Classic on Friday, April 17, at 7 p.m. in the school gymnasium. The event will include a class-versus-class round robin tournament, with the winner playing a game against the faculty. The event will also include a skills competition and a three-point shootout, while music, food and refreshments will be provided. For more information, contact the Edison marketing department at 703-924-8119 or 703-924-8125.
<b>Nereids Collect Medals</b>
The Northern Virginia Nereids synchronized swimming club continued its competitive season on Sunday, March 22 by hosting the Spring Fling Invitational. Nereid swimmers medaled in 14 of the 15 events they entered, winning 11 gold, five silver and four bronze medals. The 13- to 15-year-old age group won a goal medal. The 12-and-under duo of Ashley Eberly and Stephanie Satterlee and the trio of Connie Polnow, Leina Thurn and Mikaela Voegele all took gold, and the 13- to 15-year-old trio of Chelsea Hartanto, Kayla Plecity and Alli Kokulis won silver. The 12-and-under age group claimed first-place honors. Nereid intermediate swimmers took gold, beating the Tidewater Aqua-Aerials by points, and the two 11- to 12-year-old intermediate teams were first and second in their division.