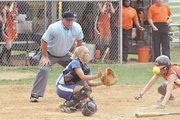 Before Hayfield's Megan Perry-Shifflett stepped to the plate during the sixth inning of Monday's Northern Region quarterfinal contest, Robinson softball coach Barry Gorodnick walked out of his team's dugout to visit pitcher Marcy Bowdren and the rest of the infield.
In that conference, catcher Christine Cunningham turned to first baseman Melissa DiDonato with a message. Should DiDonato field a throw from one her fellow infielders, Cunningham wanted her to make sure she looked to home. Hayfield's Amber Fowler was at third base and, as one of the Hawks' fastest players, would be looking to score.
While Gorodnick surely didn't draw up a plan for what unfolded next, he certainly wasn't going to complain. Perry-Shifflett dropped a bunt toward third base where Kathryn Lohr scooped up the attempt and threw to DiDonato for the out.
With Cunningham set up to block home plate, DiDonato delivered a strike and nailed Fowler for the third out of the inning. All of a sudden, with a 1-0 lead, Robinson had escaped a one-out, two-on jam. Thanks to an opportune double play, the Rams held on for a 1-0 win at Falls Church High School.
"I get goose bumps just thinking about it," said Cunningham, who went 0-for-2 at the plate but gunned down Hayfield's Jessica Reynolds to end the game. "I was not letting anyone get to my plate. That wasn't going to happen."
The win over Hayfield now sets up a semifinal matchup on Wednesday, May 27, at 5 p.m., with Centreville, which topped Annandale by a score of 1-0 earlier in the day. In a Concorde District semifinal contest on May 15, the Wildcats and Rams played 11 innings of softball, with Centreville eventually earning a 4-3 win.
Robinson's only run was facilitated by pitcher Marcy Bowdren, who spend the next seven innings making sure it stood up. In the top of the first inning, Bowdren led off the game with a single to center field and moved to second on Clare McGowan's sacrifice bunt.
After a Cunningham strikeout, Ashley Robinson walked to give Robinson first and second with one out. Gorodnick called for a double steal, but Hayfield catcher Samantha Perry-Shifflett's throw was too late to third and bounced into the outfield to score Bowdren.
"We talked about playing the short game," Gorodnick said. "We didn't think it was going to be high scoring."
Robinson totaled three hits during the next two innings, including another from Bowdren and one apiece from DiDonato and Mikole Vasquez. But the Rams were still unable to plate another run. Meanwhile, Hayfield struggled to solve Bowdren, who finished with 10 strikeouts against only one walk. She also allowed five hits.
In the sixth, Fowler led off with a single to center and Hannah Williams moved her to second on a sacrifice. Hayfield pitcher Jennifer Windau followed with an infield single that bounced just to the right of Robinson second baseman Christa Genovese before the 5-3-2 double play squashed Hayfield's rally.
"That was huge," Gorodnick said. "You can't ask for something better than that."