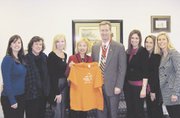 On Feb. 20, Girls on the Run of NOVA team traveled to the Virginia State Capitol in Richmond to meet the 37 members of the Northern Virginia Delegation. Their aim was to raise awareness of Girls on the Run. GOTR NOVA was honored on both the House and Senate floors for its work serving girls in Northern Virginia.
The mission of the non-profit organization is to educate and prepare girls ages 8-13 for a lifetime of self-respect and healthy living. The program blends training for a 5k running event, with self-esteem enhancing lessons that encourage positive emotional, social, mental, spiritual and physical development.
More than 3,000 girls in more than 200 schools in Northern Virginia participate in the program, the largest chapter of Girls on the Run in the country. To learn more, go to www.gotrnova.org.