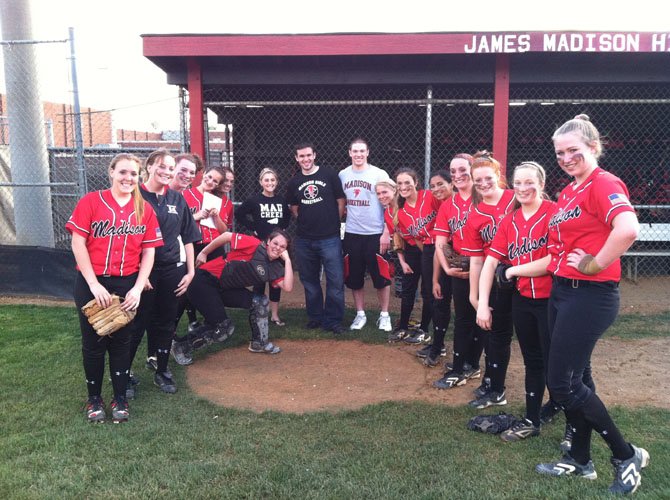 Vienna — The Madison High girls' softball team paid tribute to four of the school's teachers during pre-game ceremonies of the Warhawks' Liberty District home game versus Fairfax last Friday night, April 20.
The pre-game festivities were hosted by Madison High Principal, Mr. Mark Merrill. Each teacher was selected to be honored by members of the varsity softball team. The teachers honored were: Dan Grossman (Math); Mike Bath (Math); Colleen McAuley (English); and Ryan Douds (Social Studies).
Madison went on to continue its celebration of the night with a lopsided 18-0 win over the Rebels. The fireworks began as the Warhawks scored early and often en route to the shutout win. Freshman Jackie Yahner led the 14-hit Madison attack by reaching base four times, including three hits, and knocking in two runs. First baseman Ally Grasso went 2 for 3 with four RBIs and Tori Lipnicky continued her outstanding season by going 2 for 4 with a double and an RBI.
Kelsey Ross also had a multi-hit night for the Warhawks, going 2 for 2 with a walk and driving in two runs. Other hits on the night came from Kat Olson (1 for 3, RBI, walk), Elizabeth Fallas (1 for 3, 2 RBIs, double, walk), Mary Bolinger (1 for 3, RBI), Brittany Powers (1 for 3, RBI), and Allison Krisko (1 for 1, RBI).
Kristyn Buscemi added an RBI and a walk, and Hallie Goldsmith also delivered a run with a sacrifice fly. Freshman Shannon Davis walked in her lone plate appearance.
Fallas recorded the shutout on the mound, going the distance in the shortened five-inning contest, scattering five hits and striking out two.
The win improved the Warhawks' record to 11-3 overall and 7-1 in the Liberty District and extended their win streak to seven. This week, Madison was scheduled to play district road games at the Marshall Statesmen on Tuesday and at the Stone Bridge Bulldogs this Friday.
THREE NIGHTS EARLIER, the Madison girls also shut out district opponent Jefferson High, 12-0, in a district home game on Tuesday, April 17.
In the shortened five-inning game, Kelsey Ross pitched four innings to earn the win, giving up three hits and striking out five. Elizabeth Fallas pitched the final inning, setting the side down in order with two strikeouts.

The Warhawks' offense was led by Brittany Powers, who went 3 for 3 at the plate and drove in four runs. Fallas also had a good night, going 2 for 3 with a double and two RBIs. Kristyn Buscemi went 2 for 2 and scored three runs, while Kat Olson also contributed two hits. Ally Grasso drove in two runs with a double and Mary Bolinger also drove in two runs and went 1 for 2 at the plate, along with a walk. Tori Lipnicky singled and walked and Jackie Yahner added Madison's other hit on the night.

The Warhawks, with the win, completed their first trip through the district with a 6-1 record.
Madison was also victorious in another Liberty District game, 7-4, on April 13 at McLean High School. The game started out as a pitcher's duel as both teams' pitchers were able to keep the offenses quiet early. Madison struck first as it jumped out to a 3-0 lead in the fourth inning. The Warhawks, later, led 4-0 before McLean rallied with four runs to tie the score in the bottom of the sixth inning. But Madison answered the McLean comeback by scoring three runs in the top of the seventh on way to the 7-4 win.
Elizabeth Fallas and Kelsey Ross shared time on the mound for the Warhawks. Fallas, in five innings, gave up two earned runs on three hits with five strikeouts. Ross pitched the final two innings to earn the win, giving up no runs on one hit, striking out two.
Madison's bats came alive against the Highlanders tallying 12 hits, including three extra base hits. Five Warhawks had multi-hit games: Fallas (2 for 4, double, 2 RBIs); Tori Lipnicky (2 for 4, RBI); Ally Grasso (2 for 4, 2 doubles); Kristyn Buscemi (2 for 4); and Brittany Powers (2 for 4). Mary Bolinger (1 for 3, 2 RBIs) and Ross (1 for 4) contributed the other hits for the Warhawks.