When it comes to talent, those who've seen Westfield High senior Colby Dezelick perform — first as a dancer with Encore Theatrical Arts Project in Chantilly and then as an actor on the Westfield stage — know he's got what it takes to succeed. And now it's official.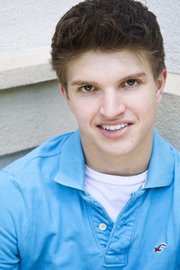 He was recently named an honorable-mention winner in the YoungArts 2012 national competition. YoungArts is the core program of the National Foundation for Advancement in the Arts (NFAA), and Dezelick was selected from more than 5,000 applicants in several disciplines in the visual, literary and performing arts.
Feted in the category of "Theater, Spoken and Musical," he's now among 16,000 YoungArts alumni, including four-time Tony Award nominee Ra·l Esparza, actresses Vanessa Williams and Kerry Washington and recording artists Nicki Minaj and Chris Young.
YoungArts is the only organization in the country that honors students in nine, different categories — cinematic arts, dance, jazz, music, photography, theater, visual arts, voice and writing. Its goal is to identify emerging artists, provide educational enrichment and assistance in their pursuit of the arts, and raise the appreciation for and support of the arts in American society.
"We are honored to recognize all of these fine young artists," said NFAA Executive Director Paul T. Lehr. "They represent the next generation of extraordinary artistic talent, and it is our hope that their experience with YoungArts will compel them to pursue their passions."
Dezelick received one of this year's 174 honorable mentions. He was chosen in a blind-adjudication process from a pool representing all 50 states and the District of Columbia, as well as all U.S. territories.
"I was very excited to win this award," he said. "It is very competitive and I was incredibly lucky to be recognized. I received a monetary award for my honorable mention."
Dezelick's entry was a video of him performing a monologue and a song. "I heard about this program through my theater mentor, Zoe Dillard [theater arts director at Herndon High and former Westfield High theater teacher], who said it would be a great opportunity for me," he said.
Next on tap for him, April 20-22, is one of the starring roles in his school's production of the musical, "Crazy for You" — which he choreographed. After graduation, he said, "I have a couple offers for college, but have not made a final decision, yet."
One thing for sure, though: No matter where Dezelick goes, he'll be majoring in musical theater.