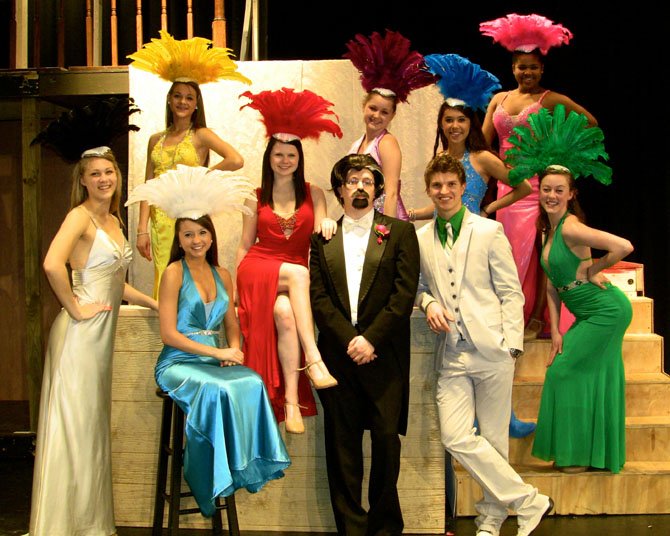 Centreville — The Cappie nominations for outstanding high-school theater were just announced and, all together, Centreville, Chantilly and Westfield received 30 nominations. The awards to the winners will be presented Sunday, June 10, at the annual Cappies Gala at The Kennedy Center in Washington, D.C.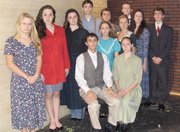 For its musical, "Crazy for You," Westfield garnered 20 nominations. Chantilly received seven for "I Remember Mama" and Centreville received three for "A Christmas Carol."
Westfield's nominations are as follows: Musical; Song, "Slap That Bass;" Lead Actor in a Musical, Colby Dezelick; Supporting Actor in a Musical, Joey Biagini; Comic Actress in a Musical, Madeleine Bloxam; Featured Dancer, Corinne Holland; Featured Actor, Mitchell Buckley; Featured Actress, Sarah Schweit; Ensemble in a Musical, Follies and Cowboys; and Choreography, Colby Dezelick.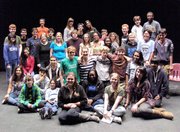 It's also nominated for: Orchestra; Stage Crew, Olivia Witt, Ally Engelbrecht, Shannon Douglass and Serena Emanuel; Props, Sophia Alam, Sarah Dickenson and Nate Schrader; Costumes, Bayleigh Aschenbrenner and Zoe Hawryluk; Sets, Colby Dezelick, Brandon Sanchez and Olivia Witt; Lighting, Ben Nelms, Robert Palack and Elizabeth Ross; Sound, Dieter Stach and Arianna Willis; Critics Team; Graduating Critic, Joey Biagini; and Rising Critic, Julian Sanchez.
"I was very proud of our musical, 'Crazy For You,'" said Director Susie Pike. "l was hoping the Cappies would like it and that we would get some nominations — but I never expected 20. I must admit, I was a bit stunned."
She's particularly pleased for her young thespians "because they worked so hard" and is especially happy that the musical received nominations in so many areas, notably the technical categories of Sets, Props, Lighting, Sound and Stage Crew. Said Pike: "Good shows are not just about the leads, but are about the whole production and all the elements involved."
Furthermore, she said, "I am so lucky to have had a great choreographer in Colby, plus great dancers. Our costumes were amazing, and I could have listened to our orchestra all night long. I like the way musicals bring all the performing arts together — acting, singing, music, scenic artistry and technical aspects."
"We are honored to be able to perform our song, 'Slap that Bass,' on The Kennedy Center stage [at the Cappies Gala]," continued Pike. "I am very fortunate to have such great kids and parents who care about the arts and devote their time and energy to Westfield Theater."
Chantilly
Chantilly's heartwarming play, "I Remember Mama" received nominations for: Best Play; Lead Actress in a Play, Amanda Miesner; Supporting Actor in a Play, John Downey; Stage Crew, organized by stage manager Emily James; Sets, A.J. Gresick, Drew Pardo, Roxy Shumate and Chloe Vasquez; Marketing and Publicity Team, Nicole Paladeau, Stephanie Feeback, Samantha Jones, Roshni Gorur, Hattie Clougherty and Julia Franke; and Graduating Critic, Amanda Miesner.
"We're always pleased to get nominations because we know how strong the competition is," said Director Ed Monk. "So it's hard to get a nomination." Delighted with his school's nominations for Sets, Stage Crew and Play, he said, "The nice thing about them is that they each involved everyone in the cast and crew."
He believes Chantilly has received Cappie nominations for Sets, every year but one. And there's a reason for that, he said. "The kids pay attention to detail so, for example, when a door opens, there's a wall or a room behind it, not a black curtain," said Monk. "They take the time to get the details right. We have kids who are willing to do that, which is wonderful."
He said it was also terrific to get a nomination for Marketing and Publicity because it's the first time it's been a Cappie category and "we were one of the first shows this year that did it. So it was nice that the girls were remembered."
Regarding the acting nominations, Monk said, "John really stepped up and did a dramatic part, for the first time, and did a really good job — and with an accent — which is really hard. And Amanda was the core of that whole show. I knew she could do it, and she did. She held the entire play together and gave a beautiful performance."
All in all, he said, "The nominations are the real honor and, if you win, it's gravy. If not, it's fine, because the Cappies Gala is a wonderful night for the theater. The kids get to dress up and have fun, and you don't get a sense of competition and rooting against people. The gala is more of a supportive night."
Centreville
For its production of "A Christmas Carol," Centreville received nominations for Featured Actor, Anthony Ingargiola; Makeup, Ashley Avila, Emily Berkley and Christa Guh; and Graduating Critic, Kelly Strauch. And Director Mike Hudson is pleased.
"I am thrilled with the nominations that Centreville received from the Cappies critics," he said. "Anthony Ingargiola is an extremely talented actor. He is one of the most dedicated people of his generation, as well as professional, exacting and a truly pleasant actor to direct."
Hudson also said Guh, Avila and Berkley really deserve the nomination for "A Christmas Carol's" makeup. "They oversaw makeup for over 60 actors, kept the dressing rooms neat and did it all with smiles," he said. "I was extremely impressed with the creative designs of Emily Berkley — they were striking and appropriate to the show."
Regarding the Critics Team, he said it's been a very active group. Each student on the team has seen at least five shows. Graduating Critic nominee Kelly Strauch "has been a driving force on our Critics Team, and she has also been published four times," said Hudson.
"That is a fantastic record for any critic. Kelly has a very analytical mind, and her reviews are precise and thoughtful. She has done an amazing job."

"Centreville has been very fortunate to have such talented students in the program, but this year's nominees really display the broad range of that talent," he added. "I am so very proud of them."