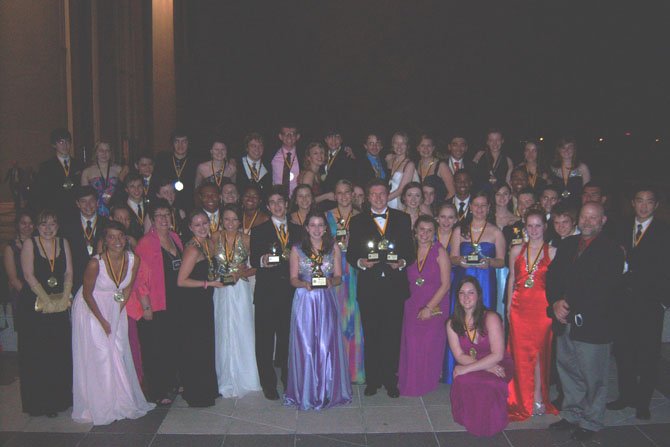 For the second year in a row, Westfield High won 10 Cappies for a musical production at Sunday night's 13th annual Cappie Awards Gala at The Kennedy Center in Washington, D.C. Its boisterous show, "Crazy for You," garnered more starry statuettes than any other school, including victories for Best Musical, Actor, Choreography and Orchestra.
"I can't believe it; I'm thrilled and speechless," said Director Susie Pike afterward. "I'm so proud of the kids. I'm very honored, and I have to thank the whole village — we all worked together to put this on."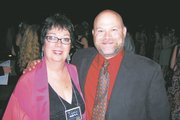 McLean High took home five awards. It won for Best Play and Lead Actor and Lead Actress in a Play for its production of "A View from the Bridge," as well as for Returning Critic and Critic Team.
Chantilly High junior John Downey captured his school's one Cappie for Supporting Actor in a Play in "I Remember Mama." Calling his award "surreal" and incredible, he said his role as Uncle Chris was written as such a dynamic character that he was able to do a great deal with it.
"He has so many different levels to him that I tried to make him as big and loud as possible," said Downey. "I had both funny and serious moments, and I'm more than proud to represent chantilly."
ACCEPTING THE AWARD for Best Musical, Allie Koenigsberg thanked Principal Tim Thomas "because his love for Westfield Theater is the reason we're here." Backstage, she said, "It feels amazing; we really hoped to win this. It's never guaranteed, but we're so happy, and we're grateful for the support of our community and our parents."
Bryan Pitt called the show's awards fantastic. "Ten Cappie wins," he said. "And it's such a great honor to have been on the same Kennedy Center stage that so many actors have graced."
"I feel like we surpassed ourselves," added Alex Mann. Agreeing, Jorge Vallejos said, "We really put a lot of hard work and dedication into this musical, and it's such an awesome feeling to know that it all paid off."
Senior Colby Dezelick won two Cappies of his own for Choreography and Lead Actor in a Musical. On stage for the Choreography award, he thanked his parents, cast and crew, dance captains and "Yvonne Henry for being a wonderful mentor." It's his second win in this category; last year, he and Avery Hobbs shared it for their work on "Joseph and the Amazing Technicolor Dreamcoat" — which also scored 10 trophies.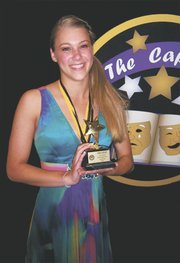 Praising his dance captains, Rachel Shirley, Corinne Holland, Maggie Mitchell, Nick Burroughs and Chaz Coffin, Dezelick said the victory felt wonderful. "Today marks almost a year that I've worked on this musical," he said. "We put on an incredible show and, trophy or not, I'm so proud of the work that me and the entire cast did. Who could ask for anything more?"
Thrilled, as well, with the Cappie for Lead Actor in a Musical, he thanked his former theater director Zoe Dillard for everything she taught him, Jim Van Slyke for being "an incredible voice teacher" and Encore choreographer Raynor van der Merwe for being "a wonderful dance teacher."
Dezelick also thanked the cast and crew, plus Director Pike. "I'm honored to win anything," he said. "I'd do any show. I love to perform, and I'm so humbled that people love to watch me do it." And he'll continue; after graduation, he'll attend Rider University in New Jersey to major in musical theater.
ALSO A DOUBLE CAPPIE winner was senior Joey Biagini, victorious as Supporting Actor in a Musical and Graduating Critic. "It's crazy," he said. "But it's great that I'm being honored for two different talents." Of his acting award, Biagini said, "It's a really great role that gave me a lot to work with."
Receiving his Critic Cappie, he thanked his family and critics team, saying, "I couldn't have done this without you." Chalking up his win to dedication and writing ability, Biagini was pleased, "especially because this is my last year," he said. "I've now won all three critics categories." Next stop is the College of William & Mary to continue his theatrical pursuits.
Senior Corinne Holland won the Cappie for Female Dancer. "I am so shocked," she said. "I know there are other fabulous dancers at other schools. It's such an honor — I'm still shaking. I'm just so happy, and it's a great way to end my senior year. It's a huge thrill to be here and be a part of all this."
The trophy for Ensemble in a Musical went to Westfield's Follies Dancers and Cowboys. "I'm extremely excited and proud of this whole production," said sophomore Selena Clyne-Galindo. Senior Ally Geary chalked up the victory to the ensemble's energy and chemistry. "We had a really good bond," she said. "We worked hard and each person had so much talent."
Westfield's 20-person orchestra received its first Cappie. "It's amazing," said senior Sam Seldowitz. "I never imagined this could happen." Classmate Josh Benbow attributed it to "our drive to succeed and sound our best, every show."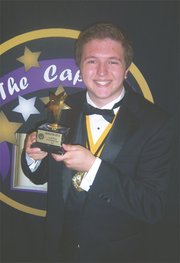 Bringing home the prize for Featured Actor was junior Mitchell Buckley. "I feel nervous, but good," he said backstage. "There was a lot of competition, but I'm excited to win. I'm proud of all our awards."
Julian Sanchez won the award for Rising Critic and thanked his parents, twin brother and also Biagini for teaching him how to write reviews. "It's a culmination of the year's work," said Sanchez. "I put a lot of thought and effort into my reviews, so it's like a validation. And it's encouraging if I want to go into journalism in the future."
Reflecting on Westfield's carload of Cappies, Pike said, "I think the [Cappies voters] could see the evident talent and passion our kids have. They love to perform and be onstage together, and it comes across. That's why I do three mainstages a year. They can't learn it out of a textbook; they've got to learn by doing it and practicing. The hard work they do together is what makes it special."
After the ceremony, Westfield's actors, techs, musicians and parents gathered outside for photos, and Principal Thomas joined the celebration. "Westfield Theater does it again," he said. "I'm so proud of all their hard work and loyalty to the school."
He praised Pike's "personal commitment to and sacrifices for the program" and also congratulated orchestra conductor Carol Jones for her "amazing" work. "And a shout-out to the parents, too," added Thomas. "Way to go, Bulldogs!"