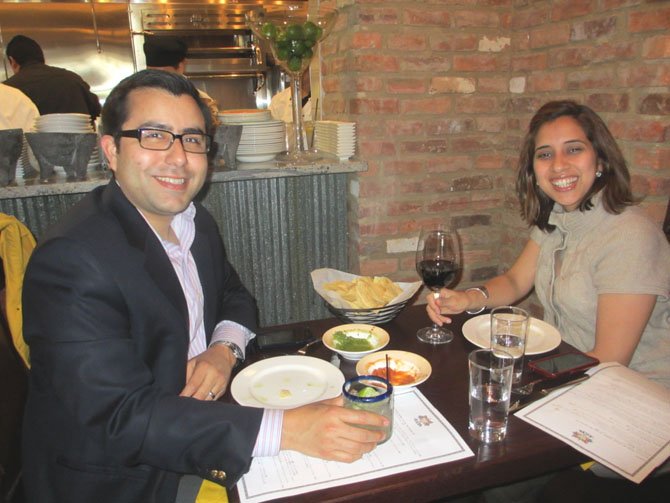 Vienna — There aren't many restaurants that have patrons waiting outside for the restaurant's door to open for the first time to the public. It's even rarer when the restaurant advertised no opening date until the day prior to opening. But nothing is surprising when the restaurant is the eagerly-awaited Alegria, the Mexican taco and small-plate margarita café owned and run by Vienna's own Patrick and Julie Bazin. On April 5, Alegria welcomed its first customers, opening five minutes early from its scheduled time.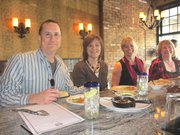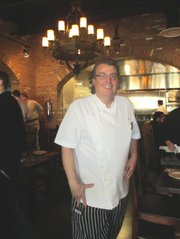 Bazin's on Church regulars John Lopez and Dayana Umana were the first to be greeted at 3:55 p.m. It was the couple's fourth anniversary and they wanted to celebrate at Alegria. Lopez called his margarita, the classic version, "awesome."
"It's lemony, tastes homemade," said Lopez. As they nibbled on tortilla chips and salsas, they commented on the food and the décor. "The sauces are very authentic and the décor is very nice," said Umana. "Even the lamp is very Mexican-style."
Patrick Bazin created a menu of diverse offerings, from spicy pork picadillo empanades to Alegria's signature tacos, such as slow-cooked pork confit and stewed chicken breast with potatoes and chorizo.
The décor, accented by brick archways, owes some of its elements to Church Street Cellars, which had been housed at that location, next door to Bazin's, for several years. When the wine shop left, the Bazins recognized the opportunity to create a different kind of in-town Mexican dining experience.
Local residents kept baby-watch, so to speak. From Facebook to phone calls, the community followed the metamorphosis of Alegria from Church Street Cellars. It was just April 4 that Julie Bazin announced on Facebook and through e-mail that Alegria had been given the go-ahead to open.
The bar, featuring dozens and dozens of different varieties of tequila, filled up quickly after opening in late afternoon. The bartender made margarita after margarita non-stop. Along the bar, each customer sat a margarita down.
Brian and Dawn Booker of Vienna invited friends Kathi Egbert and Rebecca Lichtenfels to join them for appetizers and margaritas at the bar. "Everything is very good," said Brian Booker, scooping gooey fundido onto a freshly-made tortilla chip. His friends agreed. "I'm definitely coming back for happy hour," Egbert said.
Patrick and Julie Bazin will be splitting time between their eponymous restaurant Bazin's on Church and Alegria as the newer restaurant masters its tempo. Tortillas are made in-house as are the salsas.
More than 150 customers had gone through the new restaurant by the time it closed on opening day. A few tables are set up outside for patio dining.
"I feel blessed," said Julie Bazin as she buzzed around the front room, checking on service and chatting with customers. "We're so excited we're finally here."
Alegria, open from Monday through Saturday, 4 to 11p.m., is located at 111 Church Street North, adjacent to Bazin's on Church. For more information, go to
http://www.alegriaonchurch.com/ or call 703-261-6575.