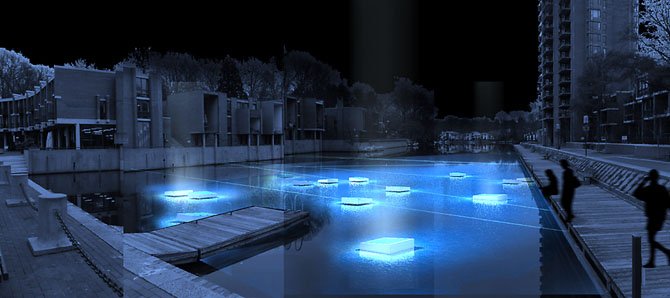 Reston Community Center, the Initiative for Public Art – Reston, Friends of Lake Anne and the Reston Museum are co-presenting Out of Place, a site-situated installation and contemporary dance performance conceived by architect Ronit Eisenbach and dance artist Sharon Mansur, inspired by the history of the planned community of 1960s New Town of Reston and the sculpture and architecture of Lake Anne Plaza. The dance performance will take place on Saturday, April 28 at 7:30 p.m. at Lake Anne Plaza. A talk-back and reception, hosted by the Reston Museum, will be held immediately following the performance. The installation will be on view from April 23-May 13, 2012.
Admission is free. No advance reservations or tickets are needed; all are welcome. For more information, contact the Reston Community Center at www.restoncommunitycenter.com or 703-476-4500. Note: The performance rain date will be Sunday, May 6 at 7:30 p.m.
OUT OF PLACE EXPLORES the productive tensions in Mansur and Eisenbach's creative practice and shared commitment to inquiry through making. Inspired by individual and collective acts of building and un-building, measuring and marking space, and the fluidity and mutability of both water and bodies, the artists examine the ways we perceive, shape and inhabit our world—inviting others to consider the same.
The dance performance, a duet featuring Mansur and longtime collaborator Daniel Burkholder, will take place on Lake Anne Plaza and will last for a half hour as daylight fades, activating the plaza through human actions and interactions, and drawing Eisenbach's constellation of floating frames and tensile lines across the water. At night, the sun's harnessed energy will transform these elements to create a landscape of luminous, hovering color in the lake. The installation will linger in the quay until May 13 delighting viewers with the memory of the duet—an architecture of situation marking temporal rhythms and reframing place.
This installation and performance is conceived by architect Ronit Eisenbach and dance artist Sharon Mansur, with installation design by Ronit Eisenbach, performance direction by Sharon Mansur and design assistance by Michael Fischer.
For more information on Out of Place, Ronit Eisenbach and Sharon Mansur, visit www.restoncommunitycenter.com.
ENJOY A NIGHT OF CULTURE in Reston by attending the GRACE opening reception of Play on the same evening, April 28 from 5 to 7 p.m. before the Out of Place performance at Lake Anne Plaza. Play, curated by Joanne Bauer, is an exhibition featuring six regional artists whose work explores different facets of play through sculpture, furniture, painting, fiber art, installation, and performance. Artists include Ed Bisese, Calder Brannock, Dickson Carroll, Jackie Levine, Marco Rando, and Ming-Yi Sung Zaleski. The exhibit will be on display at the GRACE gallery from April 26 through June 9. All are invited to attend the opening reception at 12001 Market Street, Suite 103, Reston Town Center.