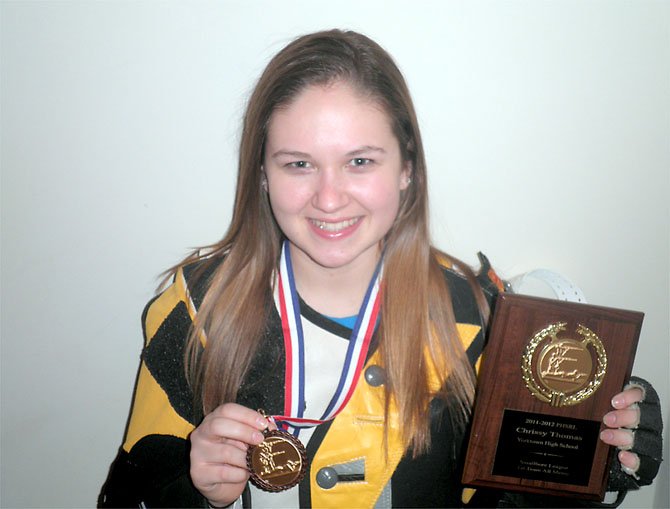 Arlington — Christian "Chrissy" Thomas, a junior at Yorktown High School in Arlington, has qualified and received an invitation to shoot in the National Junior Olympic Rifle Championship to be held in Colorado Springs, Colo., April 13-18. She will compete in the small bore category.
The National Junior Olympic program provides competitions year-round for shooters to partake in. The program runs matches throughout the country, making it accessible for all interested juniors. Junior shooters are able to participate in State Competitions sanctioned by USA Shooting, allowing them the chance to receive an invitation to shoot at the National Junior Olympic Championships hosted by USA Shooting in Colorado Spring, Colo. The program serves as part of the pipeline development system in promoting the shooting sports. Junior Olympic goals are to allow the skilled junior athletes to obtain National competitive experience for future development. The program also serves as an opportunity to appoint the top finishers to the National Junior Team.
Chrissy serves as co-captain of the Yorktown High School Competitive Rifle Team coached by Traci Yates. As a member of the YHS team shooting in the Potomac High School Rifle League, Chrissy placed third overall in the small bore category and was named First Team-All Metropolitan.
Chrissy began shooting as a freshman at Yorktown and has gone on to earn an NRA expert designation for air rifle and small bore. She is also a member of the Arlington Acorns Combined Junior Rifle Club, sponsored by the Arlington Optimist Club (http://www.arloptimist.org/).