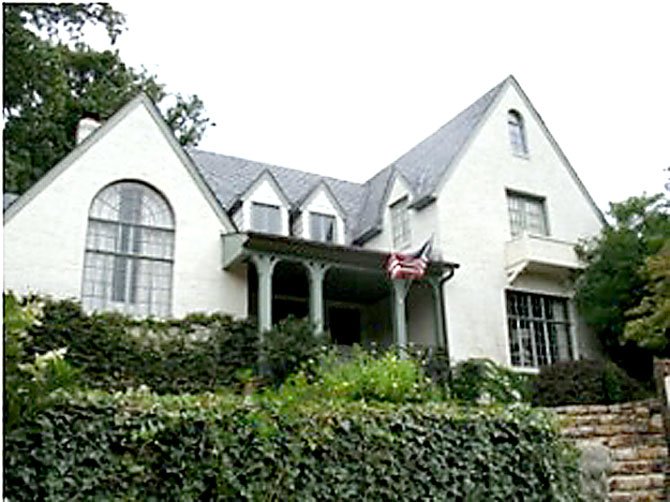 Arlington — Tuesday April 24
Garden Club Tour. 10 a.m. to 4 p.m. Admission: $25 for full tour; $15 for single-sites. Featuring four private homes and gardens built in the early to mid-20th century, this tour takes visitors through the neighborhoods built as early suburbs of Washington, D.C. Sponsored by The Garden Club of Fairfax. Tickets also sold tour day at Memorial Baptist Church: 3455 N. Glebe Road, Arlington.
Mr. and Mrs. Charles Benjamin home and garden,
N. Abingdon St., Arlington
This exquisitely renovated Tudor Colonial, recently filmed as a backdrop for Clint Eastwood's movie about J. Edgar Hoover staring Leonardo DiCaprio, rings with the romance of past intrigues. From the glow of a golden chandelier to the cozy bench where the owners became engaged, rooms are appointed with family antiques, paintings and heirloom rugs. Rich moldings and original leaded glass windows have made this residence unique since its construction in 1939. A two-level living room with a spacious garden room is complemented on the other side of the house by a kitchen that blends high quality functional designs with whimsical art including a mural of an English countryside. An original butler's pantry leads to the newest addition — a screened in porch designed to take advantage of the garden views. A large outdoor fireplace is surrounded by a slate patio. The fish pond, patio, garden shed and copper trellis were built by the current owners. A curly willow and a fascinated willow anchor the backyard circular bog area. Other notable specimens include a dogwood Samaritan, coral bark Japanese maple, Himalayan cedar and Harry Lauder's Walking stick. Mr. and Mrs. Charles Benjamin, owners.
Julian Fore and Ms. Beverly Sauer home and garden,
4665 N. 34th St., Arlington
An aura of mystery surrounds this 1950s southern California ranch home framed by a 60-year-old Magnolia Grandiflora. Landscaping includes a dazzling display of azaleas, rhododendrons and crepe myrtle. A flagstone walkway lined with over 100 boxwoods makes an impressive entrance. Remodeled extensively in 1990, the owners have created an atmosphere of welcoming warmth amidst a large collection of 18th century and early 19th century Virginia and Mid-Atlantic furniture, Canton and Chinese pottery and porcelain and many works by well-known artists. The radiant heated parquet floors throughout the home are enhanced with Turkish, Persian and Caucasus carpets. Outside there is a Greek-inspired Pergola, shaded by a wisteria that is over 50 years old and a recently added garden folly. Previously open for Historic Garden Week in 1997. Mr. Julian Fore and Ms. Beverly Sauer, owners.
Mr. and Mrs. Ed McNair home and garden,
4527 Rock Spring Rd., Arlington
Built in 1929, this welcoming Tudor home is among the original residences in Country Club Hills. The home's renovation has received several awards and has been featured in the book, Landscapes of Florence Evers. Mrs. Evers' landscape plan created a unique solution to the 23-foot rise in elevation between the street and the entry. A serpentine drive and stone retaining wall divide the front yard into two planted areas of year-round interest. A stone stairway winds through the plantings to the circular steps leading to the front porch. From the entry hall with its Chippendale-style furnishings, one can step down to the living room or up to the family room. The original paneling and coffered ceiling of the living room provide an inviting setting for a charming mix of oriental pieces and family heirlooms. The family room has a large field-stone fireplace, framed Chinese silk panels, a Palmer clock and walnut wainscoting. The rear yard is accessed through either the gallery-style kitchen or the dining room. This private area features a fieldstone patio and an inviting vine-covered pergola and seating area. Mr. and Mrs. Ed McNair, owners.
Mr. and Mrs. Pierce DeGross III home and garden,
3510 N. Pershing Dr., Arlington
This charming Colonial home in Ashton Heights reflects the vision of Ashton Jones, a southern Virginian developer, who speculated in 1920 that prosperous Washingtonians would cross the Potomac to live in his community. He was right. Historically significant as a planned suburb, Ashton Heights proved especially popular with the burgeoning federal workforce, lured by its convenient location, commuter access to railways and streetcars, and architectural variety. Today, the cozy 1932 built home gives passersby a panoramic view of 2000 spring blooming tulips, flowering dogwood, Rose of Sharon and a side garden of 600 English boxwoods in a design of circles and squares based on those in Williamsburg. The gardens were planted nearly four decades ago from seedlings. The living areas tastefully blend new and old, and showcase family antiques and a unique chandelier originally owned by Mrs. DeGross's parents. An eclectic collection of family mementos include a fireside Turkish stool, a monkey lamp, suitcase table, Limoges treasures and a Turkish shoeshine box. The family's favorite gathering place is a pillared porch overlooking the rear garden, resplendent with a 100-year-old oak tree, cypresses and a heady mix of shrubs and flowers. It is open for the first time for Historic Garden Week. Mr. and Mrs. Pierce DeGross III, owners.
The Gulf Branch Nature Center,
3608 Military Rd., Arlington
Due in part to its proximity to the Potomac River, the park has had a long association with human activities. Native Americans inhabited the area over 4,000 years ago. In the 1600s, the river crossing below Little Falls became a hub of activity for early Europeans. During the Civil War, occupation by the Union Army dramatically altered the landscape. At the turn of the 19th Century, the area was largely rural. During its former life as a private home, the nature center was even home to a silent film star, Pola Negri. It was not until the end of WWII when a building boon hit Washington and its suburbs that today's urban landscape began to take shape. Today Gulf Branch remains a touchstone to the past and a commitment to future generations to preserve and protect Arlington's natural resources. Special activities on April 24 for Historic Garden Week include: At 11 a.m., Wildflowers — a guided tour through Gulf Branch by a staff naturalist in search of the spring wonders. At 2 p.m., the Life of Bees. Learn about the busy life of these very important insects.
The Joseph L. Fisher Post Office — Clarendon,
2043 Wilson Blvd., Arlington.
Built in 1937, it features Auriel Bessemer's seven New Deal era murals. These were commissioned by the Treasury Department's Section of Fine Art in order to beautify Arlington's first federal building. By showing familiar, local destinations, such as Great Falls and Roosevelt Island, Bessemer contributed to a sense of local pride. The Post Office is listed on the National Register of historic places.
Arlington Arts Center, 3550 Wilson Blvd., Arlington.
This renovated 100-year-old school house, the former Clarendon Elementary School, is home to studios, classrooms and nine galleries, one of which features Tiffany stained glass windows. This private, nonprofit, non-collecting visual arts center presents and supports new work by artists from the mid-Atlantic region.
Refreshments: Complimentary punch and cookies will be served at Memorial Baptist Church in Arlington until 3 p.m.
More like this story