Squeals on Wheels, Potomac's traveling petting zoo, has recently acquired a tiny miniature horse. As yet unnamed, the one-year-old horse weighs less than 50 pounds and stands less than 2-feet-tall. He is the perfect height and temperament for people in wheelchairs to enjoy, says Jill Phillips, Squeals on Wheels owner along with her husband John.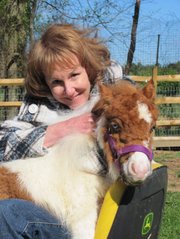 Now Squeals on Wheels and Potomac Almanac invite readers to help name the new mini-horse. The winning name will be chosen by board members from the Potomac Community Center and Potomac Chamber of Commerce.
"He has the most loving personality, he's amazingly sweet," said Jill Phillips. "We've added him to the zoo so those who are in wheelchairs or bed-ridden may reach out and touch him. ... He's a wonderful therapy horse — very, very calm and loves to be touched."
Meet the new miniature horse at he Potomac Community Center Marketplace on Saturday, April 28 from noon to 4 p.m. where Squeals on Wheels Petting Zoo will be part of the fun along with arts, crafts and the farmers market. Residents can enter the contest on the spot.
The person who picks the winning name will have their photo printed with the miniature horse in the Potomac Almanac, and will get a free "Bunny and Peeps" petting zoo experience from Squeals on Wheels. See www.squealsonwheels.us.
Enter at the Potomac Community Center on April 28, or send suggested name for the miniature horse, your name, address, phone number and email address to almanac@connectionnewspapers.com (be sure to put Mini Naming Contest in subject line) or enter your suggestion online at www.PotomacAlmanac.com/namethemini.
Entries accepted until May 7, and a winner will be announced later in May.