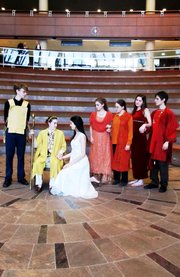 Members of the Traveling Players Ensemble provided classical entertainment in the form of King Lear - and some levity, in the form of artistic director Jeanne Harrison - to the Fairfax County Board of Supervisors last week during its public hearings on the fiscal year 2013 budget.
Harrison - founder and producing artistic director of the McLean-based troupe – is well-known for her kinetic energy and passion for arts funding.
"Why should Fairfax County continue to support the arts in this challenging time? To answer that, I look to the ancient Greeks," she said to the board in her energetic soliloquy.
"The ancient Greeks required – you heard that right – required every citizen attend the theater. They believed the benefits were so profound that they even removed convicts from jail, still in their shackles, to attend the theater," Harrison said.
"When people sit together in theatre, when they watch a story together, laugh and cry together, and discuss it afterwards, their shared experience creates community," Harrison said, adding that she considers herself the "luckiest woman in the world to get to work with teenagers, who are filled with intellect, wit, playfulness…and anxiety."
With that introduction, eight high-schoolers performed a short scene from King Lear.
"That was awesome," said Supervisor Jeff McKay (D-Lee). "This is the fun part of these hearings, because we get to hear students like these performing Shakespeare."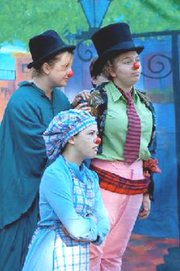 TRAVELING PLAYERS is a professional theatre company whose mission is to bring great theatre into the great outdoors. Based at The Madeira School in McLean, the company offers summer day camps for rising 5th through 12th graders, where they work in small ensembles (up to 13 performers) to rehearse a classical play under the direction of experienced theatre professionals.
On Sunday, April 22, the group will host an open house from 1 to 4 p.m. on the grounds of The Madeira School, where it has held its summer theatre camp since 2007.

Parents, teachers and teens can meet the staff and returning campers at this informal open house.
The event includes walking tours of Madeira, Q & A sessions, and theatre games for the kids. Visitors should wear shoes for walking in the woods.

The open house will conclude with a performance of Y. York's Afternoon of the Elves by Traveling Players' middle school performance class. This bittersweet fable tells the story of two girls who find safety and friendship in their own imaginary world.
The play is directed by Jessica Jung and features Jamie Elizabeth Baker of McLean; Sarah Goldberg of Washington, D.C.; Erica Landry of Vienna; Zophia Pryzby of Reston; Trip Sherwood of McLean; and Ana Stevens (Arlington).
This event is free and open to the public, and will take place rain or shine.
Founded in 2003, Traveling Players has been invited to perform at the Kennedy Center's Millennium Stage, Colonial Williamsburg, Shenandoah National Park, Reston's Multicultural Festival, and the International Children's Festival at Wolf Trap.
In 2007, Traveling Players was recognized by the National Endowment for the Arts (NEA) by being selected as one of 25 of the nation's "Summer School in the Arts."


FOR MORE INFORMATION, visit www.travelingplayers.org or call 703-987-1712.