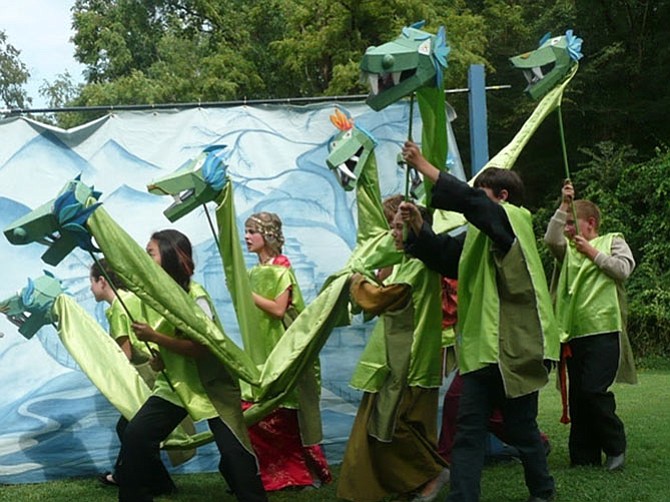 McLean — After weeks of learning classical theatre, practicing movement and vocalizing, and fending off gnats and mosquitoes, Traveling Players' youth ensembles will present a festival of three classical plays on July 21, 2017.
The schedule for the full day is:
4:30-5:30 "Atum's Eye"

5:30-6:30 "The Blue Monster"

6:30-7:30 intermission for dinner (picnicking is welcome)

7:30-9 p.m. "As You Like It"
Tickets are $10, available at the door. Guests may want to bring picnic items, lawn chairs, insect spray, and flash lights. Camping chairs will be available for rent. In the event of rain, the performances will be held in Madeira's Chapel Auditorium.
The outdoor festival is the final stop on a performance tour by each ensemble, and features a trio of classic plays.
In "Atum's Eye," adapted from an Egyptian creation myth by Judy White, a father's search for his missing children leads to a quest across time and space, through ancient tombs and the underworld… and onto the set of a very unusual gameshow.
In "The Blue Monster," by Carlo Gozzi, true love is tested by magic transformations, deceitful nobles, and a seven-headed hydra. The playfully dramatic script mixes fast-talking comedy with fairytale spectacle.
In Shakespeare's "As You Like It," faithful cousins and vengeful siblings, city clowns and country clowns, poetic trees and prosaic sheep, all tell the story of how we find true love (and our true selves) in nature.
Traveling Players Ensemble's mission is to bring great theatre into the great outdoors. To do this, they offer summer camps for elementary, middle and high school students, where they learn to practice their craft with the barest of props, directed by experienced theatre professionals. They also spend most of their time outdoors, even camping out once a week.
The combination of expert training and outdoor settings creates an experience for the campers that is unique in the world of theatre programs.
The camp still has a few select openings in its programs which continue through the summer, including camps in August.
Traveling Players is in residence at The Madeira School in McLean, where they will host a second festival on Friday, Aug. 18. Also at the Madeira School, on Aug. 11, Traveling Players' most experienced performers will perform Shakespeare's "Comedy of Errors," alongside a remount of "Atum's Eye."
Founded in 2003, Traveling Players has been invited to perform at the Kennedy Center's Millennium Stage, Colonial Williamsburg, Shenandoah National Park, Reston's Multicultural Festival, and the International Children's Festival at Wolf Trap. Traveling Players Ensemble was selected as one of 25 model summer arts programs by the National Endowment for the Arts (NEA).
Traveling Players is supported in part by the Art Council of Fairfax County, the Virginia Commission for the Arts, and the National Endowment for the Arts.
For directions to Madeira, visit www.madeira.org/about-madeira/contact-us/.
For more information, visit www.travelingplayers.org or call 703-987-1712.