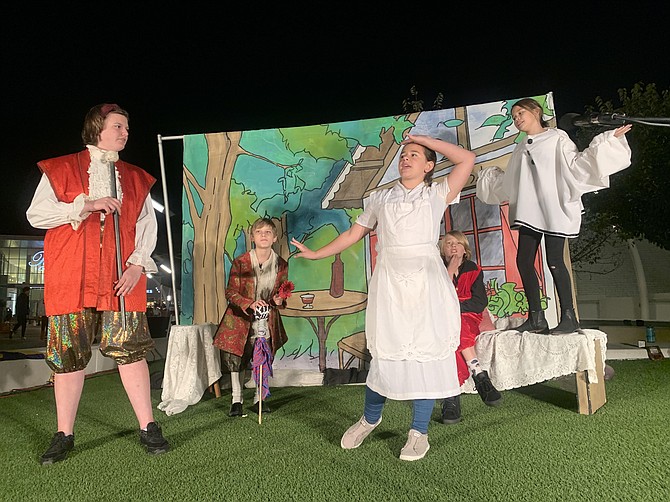 Traveling Players Ensemble, a nonprofit educational theatre company, presented Tricks & Treats on The Plaza at Tysons Corner Mall on Wednesday, Oct. 23. The benefit concert supports the Ensemble opening its first storefront studio at the Tysons Corner Center in January of 2020. An excerpt was performed from Moliere's classic comedy the "Doctor in Spite of Himself," about a woodcutter impersonating a doctor to trick a rich man. Also featured were Doctor Dour & Peach, a husband and wife team who are longtime faculty members at the company.

Now in its 17th year, the Traveling Players Ensemble is dedicated to training young actors in the "great outdoors" through theatre classes, workshops and summer camps.
The National Endowment for the Arts named it one of the 25 best Summer Schools in the Arts. The Ensemble frequently performs in the Washington D.C. area including the Kennedy Center's Millennium Stage, Wolftrap's International Children's Festival, and the Multicultural Festival in Reston.
Founder and producing artistic director Jeanne Harrison is optimistic that the new studio in Tysons will benefit the local community and beyond. "The Tysons Studio will give our acting students a safe, vibrant space to rehearse classic plays and share them with the broader community. By introducing classic literature, which is unfamiliar to lots of people, in a familiar environment, we hope to show them why they are classics in the first place," Harrison said.
Mclean's Jeebu Foraida, 13, who starred as the Woodcutter at the benefit performance, joined the group a few years ago through a summer camp. "It has taught me the importance of getting along with the ensemble and being a team player. And I discovered (that) being a team player is an important lesson, not only for acting, but for life in general," Foraida said.
The Traveling Players will be performing "Charlie and the Chocolate Factory" and Shakespeare's "Midsummer's Night's Dream" in March of 2020.
Anyone who wishes to donate to the Traveling Players' new studio can visit: www.cfp-dc.org/2x54 or http://www.travelingplayers.org.