Members of the Whitman baseball team exuded energy and excitement as they acknowledged Ryan McGill's role in a victory at Quince Orchard on April 13. As the Vikings gathered near the left-field line, one player shouted, "No. 27 is back!"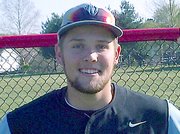 In a battle of two of Montgomery County's top teams, McGill, a senior pitcher, tossed a complete game, allowing just one unearned run as Whitman defeated Quince Orchard 2-1 to extend its season-opening win streak to eight. After the game, McGill smiled and spoke about the joy he felt just being out on the field with his teammates. The left-hander wasn't taking the experience for granted because it wasn't long ago that McGill's postgame thoughts and emotions were littered with disappointment and sadness.
During the winter of his junior year, McGill suffered a broken left ankle while playing for the Whitman ice hockey team. He required a plate, five screws and 11 weeks to return to full strength, resulting in McGill missing basically all of the 2011 baseball campaign (he received one at-bat late in the regular season). McGill had been a standout pitcher as a sophomore, helping Whitman reach the 2010 regional semifinals, where the Vikings lost to Gaithersburg. With McGill on the bench the following season, Whitman again lost to Gaithersburg in the regional semifinals.
"I think that he took our playoff loss harder than anybody," Whitman head coach Joe Cassidy said.
McGill described the difficulty of watching from the bench as a Whitman team led by school record-breaking leadoff hitter James Dionne and standout shortstop and pitcher Michael Flack fell short against the Trojans for the second consecutive season.
"He's like our Jamie Moyer. You look at him and [think], 'How am I not getting a hit off of him?' You've got an 0-for-3 and he wins a 2-1 game."

— Whitman baseball coach Joe Cassidy about pitcher Ryan McGill
"It was probably the hardest thing I've ever done in my life," McGill said. "Emotionally, mentally, I can't even describe it. It was the hardest thing in the world to watch. With the team we had last year … there were nights when I cried at home — not because we lost or anything, but because I couldn't be out there.
"I'm a kid that loves to be out there every day."
McGill returned for his senior season and has made the most of his opportunity. In three starts and one relief appearance spanning 19 2/3 innings, the southpaw has yet to allow an earned run. He has issued just one walk and surrendered only 13 hits on his way to a 3-0 record.
"I come out every game just letting it all out," McGill said. "I play every game like it's my last game."
Cassidy describes McGill as a "crafty lefty." No. 27 isn't a flame-thrower, so he relies on location and changing speeds to retire opposing batters. Unlike Whitman's other primary starting pitcher, Flack, who totaled 33 strikeouts in his first 19 1/3 innings, McGill has just 10. Despite a limited number of punch-outs, a solid Vikings defense has helped the left-hander succeed with a pitch-to-contact approach.
"He's like our Jamie Moyer," said Cassidy, comparing McGill to the 49-year-old Colorado Rockies hurler. "You look at him and [think], 'How am I not getting a hit off of him?' You've got an 0-for-3 and he wins a 2-1 game. …
"He's very good at mixing [speeds] and trying to keep kids off balance, but he doesn't throw hard enough that he's going to be able to blow it by them. Sometimes he does try and get — I don't want to say too cute — and he misses a little bit. There's a fine line with him, but what helps is the three or four fastest kids on the team are in the outfield."
Against Quince Orchard, McGill threw 59 of 83 pitches for strikes, and tossed a first-pitch strike to 16 of 26 Cougar batters.
"He had control of every pitch he throws," senior catcher Josh Biel said. "… He was locating real well, getting ahead in the count, really let me call anything I wanted once he got 0-1, 0-2, 1-2 in the count. They were really off balance at the plate."
After beating Quince Orchard, Whitman suffered its first defeat of the season on April 16, dropping a home game against Churchill, 6-1. The Vikings (8-1) will host Bethesda-Chevy Chase at 7 p.m. on Wednesday, April 18. Whitman defeated B-CC 6-5 on April 2. As Whitman enters the second half of the season, the Vikings are considered one of the favorites to capture the program's first region championship — thanks in large part to the return of McGill, who Biel called "the most outgoing guy on the team, by far."
"It's the most exciting thing to be out on the field," McGill said. "It brings so much happiness. I get antsy just thinking about. I can't wait to get out and play."