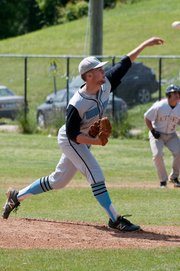 Whitman baseball coach Joe Cassidy stood near the third-base dugout of the Vikings' home field and talked about some of the reasons why 2012 was an ideal season for the program to capture its first region championship.
The team had 11 seniors, including standout pitchers Michael Flack and Ryan McGill. The Vikings went 15-2 in the regular season, earning home-field advantage throughout the region tournament.
Whitman had talent, experience and success on its side. But after advancing to the region final with victories over Gaithersburg and Bethesda-Chevy Chase, the Vikings watched as some other team celebrated its first region championship.
Northwest defeated Whitman, 5-3, in eight innings on May 18 in Bethesda to earn the 4A West crown. After blowing out Kennedy in the opening round, the sixth-seeded Jaguars upset No. 3 Magruder, No. 2 Quince Orchard and the top-seeded Vikings to advance to the state tournament.
"There's nothing I can say to make the hurt go away," Cassidy said. "I'm proud of the seniors. … Sophomores and juniors, I tell them hopefully they learn from it and move on. You don't want to have this feeling next year and get over the hump."
Northwest took a 3-2 lead in the top of the fifth, but Flack responded with a two-out RBI single in the bottom half. After a pair of scoreless innings sent the game into extras, Jaguars catcher Mike Shannon delivered a two-out, run-scoring double to deep center field. Northwest added an insurance run and Whitman, despite having the leadoff batter reach base in the bottom half, could not answer.
"It's tough," Flack said. "I'm not that angry because we played well — we played our hearts out. That's just the way it is: sometimes you win, sometimes you lose, but it's tough going out like that."
Each team scored two runs in the first inning. After falling behind, Whitman countered with an RBI double by McGill and a run-scoring single by Andrew Castagnetti.
Flack finished 2 for 3 with a run and an RBI. Max Session also had a hit.
McGill started on the mound for Whitman and received a no decision. He allowed three runs and three hits in five innings, while walking three and striking out one.
Despite the loss, Cassidy and Flack each said they considered 2012 to be a successful season. Whitman finished the year with a school-record 17 victories. The Vikings lost just three games, including back-to-back regular season contests against Churchill (April 16) and B-CC (April 19). Whitman opened the season with eight consecutive wins and rode a nine-game winning streak into the region final.
The Vikings will graduate some of the athletes primarily responsible for making them one of the favorites to win the region in 2012, but Cassidy is hopeful Whitman can continue its success next season.
"No one thought Northwest would be region champs if you go back in March," he said. "Everyone thought they would be good, but sometimes it's not bad being the dark horse."