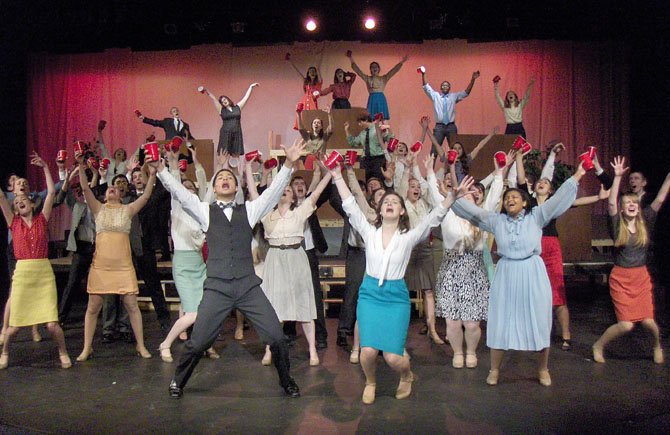 It's been a movie, a Broadway play – currently in revival – and now "How to Succeed in Business without Really Trying" is coming to the Robinson Secondary stage.
The action unfolds over two weekends, Friday-Saturday, April 27-28; and Thursday-Friday-Saturday, May 3-4-5; all at 7:30 p.m. Tickets are $12 at the door and online at www.robinsondrama.org.
"We've been rehearsing since January and things are going great," said Director Chip Rome. "It's fun and filled with songs and dances; there are numerous, big, production numbers. And the audience will enjoy clever triumphing over bureaucracy."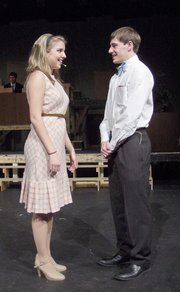 THIS EXUBERANT MUSICAL features a cast and crew of 70, plus a 25-member orchestra conducted by Jackie Geldert. Suzy McCarthy is the vocal director and is choreographing the show with Susan Brock.
"We have a strong, talented cast," said Rome. "We had 90 people audition, called back 75 and cast 54. Carys Meyer has a gorgeous singing voice, and Morgan Miller's contrasts beautifully with hers."
The story's set in the 1962 "Mad Men" era, with costumes and hairstyles to match. "J. Pierpont Finch starts as a window washer and takes advantage of the corporate world and all its characters we see in 'Dilbert,'" said Rome. "And in the meantime, the girl gets her man. So it's a real, feel-good musical, watching the characters we've come to love triumph at last."
Set designer is Tim Cook, former Robinson theater student and GMU grad who now works in the college's theater department. The set is a series of levels illustrating Finch's climb up the corporate ladder at the World Wide Wicket Co.; so each time he's promoted, his office is on a higher level.
Playing Finch is senior Josh Israel, who'll attend NYU this fall as a theater major. Describing Finch as "the eagerest beaver of them all," Israel said his character is likeable, has a positive attitude and is willing to do whatever needs doing. "But at the same time, he's very ambitious," said Israel. "He manipulates most of the people in the company to bend them to his will and rise to the top."
Israel enjoys "showing how Finch gets his way to be able to hold the power. To be this crafty guy who thinks on his feet and solves problems quickly is fun." His favorite song is "Grand Old Ivy," Finch's duet with his boss, Mr. Biggley, played by Kyle Lynch. "Kyle and I have fun interacting with and playing off each other in that song," said Israel. "There's a lot of energy on stage and I try to make him laugh."
He said the audience will especially love the musical's finale, "Brotherhood of Man," sung by all the males because "it's pretty spectacular." The show, itself, said Israel, is "a classic, romantic comedy. Everybody in the cast has a great relationship with each other, and it definitely shows on stage."
Junior Carys Meyer portrays Rosemary, who's in love with Finch. "She's a secretary at the company and is also ambitious," said Meyer. "She seems to be the typical ingénue, but does everything she can to try to win Finch over. She wants to be a housewife, raise a family and live in the suburbs; she goes after Finch because she sees his potential."
Meyer likes her character's songs, plus the fact that "Rosemary knows what she wants, but is easily swayed and influenced. And her emotions switch quickly between anger, love and excitement." Meyer's favorite song is "Paris Original," which she sings with the other female cast members. "Something surprising happens during the song, so I play completely opposite emotions during it."
Calling the show upbeat, lively and funny, she says the audience "will have a really good time cheering for Finch, and the dancing and choreography is really good."
Playing Bud Frump, J.B. Biggley's nephew, is senior Jason Rath. "He got his job through his mother, J.B.'s sister; and when he's unhappy at work, he complains to his mother," said Rath. "He wants to work in the company, even though he has no experience. He's out for his own gain. He's the 'villain,' working against Finch, but I think of him as the hero because Finch is going about things unethically."
Rath likes his role because "Frump's an adult, but so childish, and pouts a lot. He disrespects other people's authority, so it's fun to see how far I can take his sense of entitlement." Rath particularly likes "The Company Way (Reprise)" number. "Frump sings it to Twimble, head of the mailroom," said Rath. "Frump's justifying to him how he's changed and deserves to succeed Twimble in his job. But Frump doesn't believe what he's saying."


OVERALL, said Rath, "It's going to be a high-energy production. We do a good job of highlighting the moments in business that are weird and don't make sense, but people go along with, anyway. And that's what makes this show a farce about the business world."
Senior Morgan Miller portrays Smitty, Rosemary's best friend and fellow secretary. "She's outgoing and outspoken and has strong opinions," said Miller. "She's almost living vicariously through Rosemary, but enjoys helping her get what she wants. I relate to Smitty since she's strong about her objective and always knows what she's doing. And it's fun how she's a third party to the romance between Rosemary and Finch and helps orchestrate it."
Miller's favorite song is "Coffee Break" because "it's really exaggerated, which makes it funny. When everyone comes to get coffee, it's all gone, so they totally freak out and overreact." She said the audience will like watching the romance between Rosemary and Finch and the funny storyline between Biggley and Frump. "There are lots of stories going on, and that makes it interesting," said Miller. "The audience will also love the quick quips, the dancing and all the show-stopping numbers."