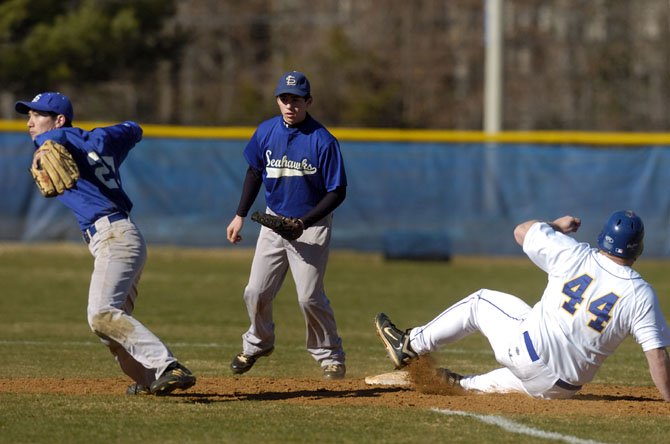 Burke — The Robinson Secondary baseball team reached the .500 record mark this past Tuesday night, April 17 when the Rams defeated host Oakton, 6-4, in a Concorde District game played in the Vienna area.
It was the second district win in a row for Robinson, which had also won a road game at Westfield High, 3-1, last Friday night, April 13.
Robinson, with the latest wins, stood at 6-6 overall and 2-1 in district play. The Rams lost their district opener last Tuesday, April 10 to visiting Centreville, 5-4.
Robinson coach John James said his team has seen its ups and downs thus far this spring.
"Our season so far has been a learning process," said James. "We've done things well at times and not so well at times. We're just trying to find some consistency in our approach.
The Centreville game was a game that could've gone either way, and Centreville got the job done when they needed to. Give them credit."
Robinson, over the recent spring break, competed in a tournament at Osbourn Park High School in Manassas where they went 2-2. The Rams defeated Wakefield High (National District) in its first game at the Osbourn Park tournament, 11-1, on March 31, but lost their next game to the tourney host team Yellow Jackets, 3-1, later that same day.
In its next game at the tournament on Tuesday, April 3, Robinson lost to Battlefield High (Manassas), 4-3. But in their second game that same day, the Rams defeated Stone Bridge High (Liberty District), 6-4.
Robinson entered the spring break with a 2-3 record with its early season wins coming over local rival Fairfax High, 12-11, in the season opener on March 14, and at Kettle Run (Nokesville), 2-1, on March 22. The three early season losses came to Northern Region opponents West Springfield, Woodson, and Marshall High Schools.
Robinson is scheduled to play games on both Friday and Saturday this weekend. The Friday night game will be a district home meeting versus Chantilly at 6:30. Saturday's game, a non-district game at Annandale High, will start at noon.
"Our goals for the rest of the season are the same as they've been up to this point," said Coach James. "We want to work as hard as we can, improve each day, and put ourselves in a position to compete at tournament time."