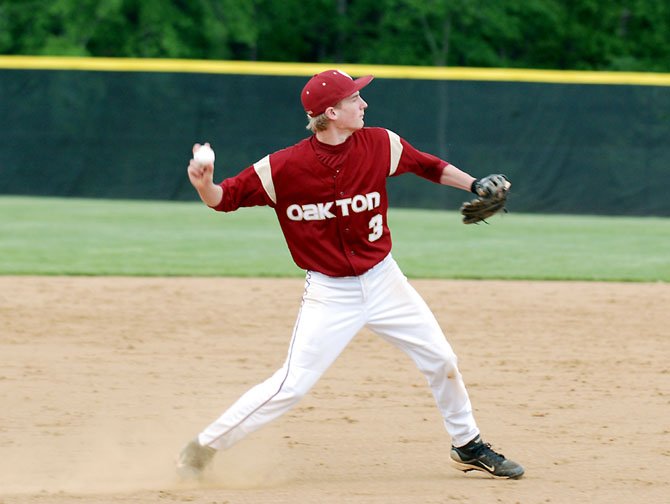 Vienna — A tough stretch of the season has hit the Oakton High baseball team since the start up of play within the Concorde District schedule a few weeks ago. The Cougars, who were 6-1 at one point this spring, entered this week in the midst of a tough five-game losing streak.
Four of the losses during the recent skid were against district opponents, putting Oakton (6-6 overall, 0-4 in the district) in dire need of a victory against a Concorde opponent. This week, the Cougars were scheduled to play district games at Westfield on Tuesday, April 24, before coming home this Friday, April 27 to host Herndon High. Friday night's game with the Hornets is set to begin at 6:30.
"We have struggled in the win-loss column recently, but overall, our guys play hard every time they step on the field," said Oakton head coach Justin Janis. "I've been pleased with their effort and preparation. We just need to make a couple of plays here and there and that will turn our momentum back in the right direction."
Oakton's first two district games were both one-run setbacks - road losses at Herndon, 4-3, on April 10, and Chantilly, 3-2, on April 13. A day following the loss to the Chargers, Oakton lost a non-Northern Region affair at Loudoun Valley (Cedar Run District), 9-1.
In its third and fourth district games, both at home on April 17 and 19, the Cougars lost to Robinson, 6-4, and also fell to Centreville, 10-6. That put Oakton at a disappointing 0-4 record in district games.
Oakton has received a particularly strong season thus far from junior starting pitcher Matt Gregor.
"Matt has been pitching very well," said Janis. "Every time he has pitched he has given us a quality start."
Mitchell Carroll, a junior, has played well at shortstop defensively and is batting .300. The Cougars' leading hitter is junior Joey Bartosic, who is hitting .342.
OAKTON BEGAN the season with a flurry with victories in its first five games. The Cougars opened the season with a home game on March 15 versus Yorktown High of the National District and defeated the Patriots by an 8-3 score. Two days later in an early season tournament at McLean High School, Oakton won both ends of a double-header - defeating the host McLean Highlanders 8-7 before handling West Potomac High (Patriot District) by a 15-4 score later that afternoon/evening.
On March 23, Oakton traveled to Richmond for a Friday evening game at St. Anne's-Belfield. In that outing versus the private school team, Oakton improved its record to 4-0 with a 9-2 win.
The next week, the Cougars hosted McLean on a Saturday afternoon on the final day of March and won, 7-4.
Over spring break week, Oakton, competing in a local tournament, played a pair of games. The Cougars, on Monday, April 2, lost at Lake Braddock Secondary (Patriot District), 2-0, for their first setback of the season. But they defeated visiting West Springfield, another Patriot District opponent, 3-1, the following day in a mid-afternoon game played at Oakton to improve their record to 6-1.
Since the win over the Spartans, Oakton has struggled with the four straight district losses. Over the next several weeks leading up to the Concorde District Tournament (May 15-21), the Cougars will look to earn as many regular season district wins as possible in order to give themselves the best possible seeding for the district tournament.
A year ago, Oakton entered districts as the top seed and went on to win the district tournament title with a finals win over Westfield. At the ensuing Northern Region playoffs, the Cougars advanced to the second round quarterfinals before seeing their season end with a barn-burner, 13-12 loss to Lake Braddock. Overall, Oakton finished 18-6 in 2011.