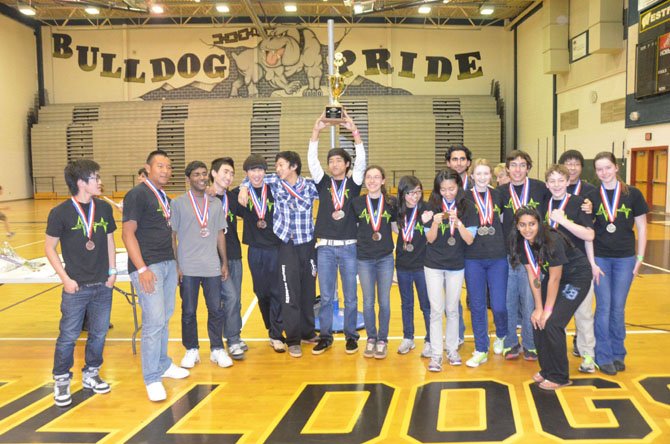 Langley High School's Science Olympiad team won first place in Division C (grades 9-12) at the Virginia Science Olympiad state competition, held April 14 at Westfield High School.
The Science Olympiad program requires student mastery of 24 technology, engineering and science categories including protein modeling, optics, gravity vehicle, forensics and tower building.
The victory qualifies the Langley team to compete at the National Science Olympiad, to be held May 18-19 at the University of Central Florida.
The community can help to offset costs of the tournament fees and trip by visiting http://www.fcps.edu/LangleyHS/.
Team members include Joao Ascensao, Julia Casazza, Ryan Cheng, Saba Eskandarian, Noah Flaxman, Alex Hurr, Na He Jeon, Alan Kai, Dana Kazerooni, Gene Kim, Jaisohn Kim, Liana Kramer, Calvin Li, Kelvin Niu, Debbie Pan, Paige Piszel, Aishvar Radhakrishnan, Vaibhavi Silamgari and Timothy Tsai. Faculty sponsor is Leah Puhlick.
The team from Fairfax High School placed second in the competition. At the middle-school level, Longfellow Middle School finished in first place.
For more information about the National Science Olympiad, visit www.soinc.org/2012_national_tournament.