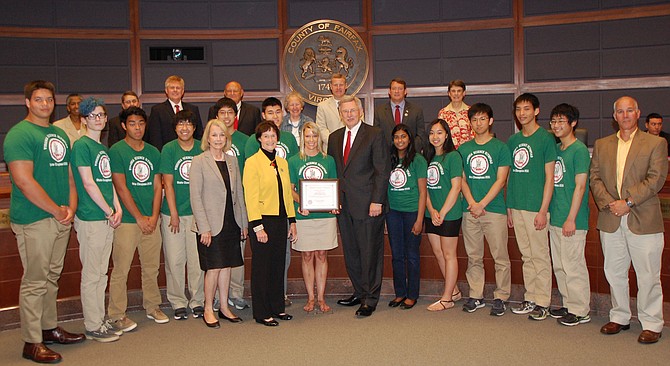 Langley High School's Science Olympiad Team was honored by the Board of Supervisors and Del. Kathleen Murphy (D-34) Tuesday, June 23.
Langley's team finished first in the state of Virginia in April and represented the state of Virginia at the national competition at the University of Nebraska in Lincoln, Neb. on May 15-16.
The competition "requires student mastery of technology, science and engineering subjects," said Supervisor John W. Foust. "It's a challenging and very competitive national program."
"It's quite an honor," said Foust. "Once again, a Fairfax County high school makes us so very proud."
Chemistry teacher and Langley coach Leah Puhlick thanked for all the support given to her "future scientists and engineers."
"We are privileged to be here and honored to represent Virginia at the national competition," she said.
Eleven students from the team appeared before the Board of Supervisors last Tuesday.