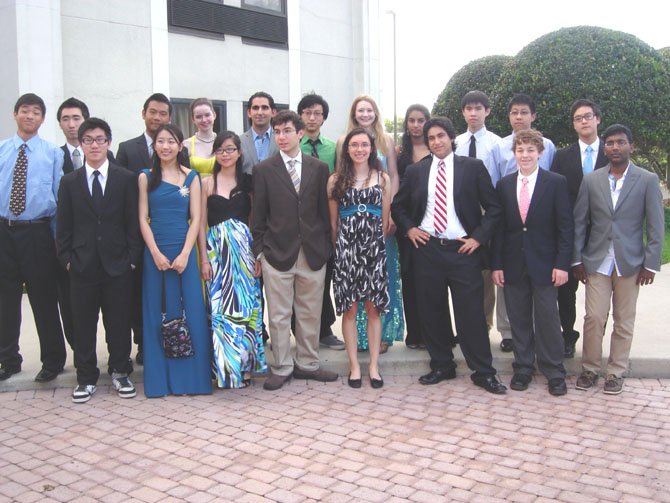 Local students competed in the 28th annual National Science Olympiad at the University of Central Florida on May 18-19. Representing Virginia, a team from Langley High School challenged 59 other state champion high schools from the U.S.
Virginia's national team includes Joao Ascensao, Julia Casazza, Ryan Cheng, Saba Eskandarian, Noah Flaxman, Alex Hurr, Na He Jeon, Alan Kai, Dana Kazerooni, Gene Kim, Jaisohn Kim, Liana Kramer, Calvin Li, Kelvin Niu, Debbie Pan, Paige Piszel, Aishvar Radhakrishnan, Vaibhavi Silamgari and
Timothy Tsai. Faculty sponsor is Leah Puhlick.
Seniors Ascensao and Pan earned medals in Microbe Mission. Other excellent scores were attained by team members in Chemistry Lab, Forensics, and Sounds of Music.
Science Olympiad is a national, non-profit organization designed to promote scientific literacy among all students, a goal shared by education, business, industry and government.
Each team competes in 25 scientific events based on subjects like anatomy and physiology, earth sciences, forestry, genetics, physics, technical problem-solving and thermodynamics. There are engineering and technology
events, as well. Competitors may do everything from constructing a robot to applying principles and practices of epidemiology to a disease outbreak investigation.
Major sponsors of Langley's 2012 national team include the Analemma Society of Great Falls, Architecture, Inc., Great Falls Optimist Club, Langley High School PTSA, Trader Joe's Falls Church, and Whole Foods Vienna.