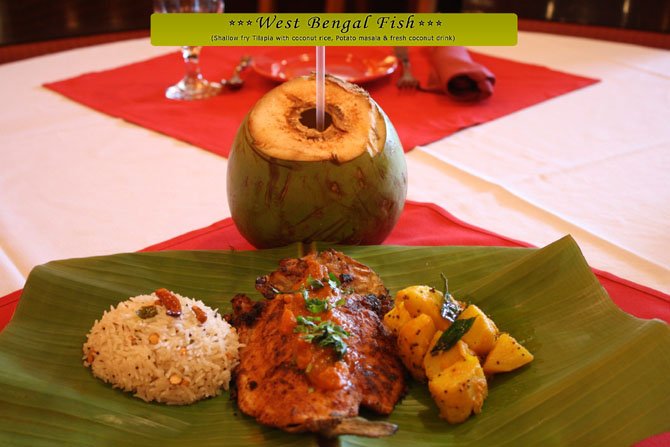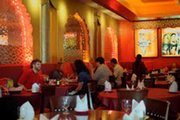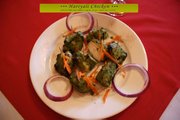 Zagat-rated Indian restaurant Curry Mantra celebrates its one-year anniversary in April 2012 with the opening of its expansion at 9984 Main Street in Fairfax. Doubling the restaurant's size and seating capacity to a total of 106 seats, the expansion also highlights the culture and history of India through its native Indian décor and historical displays.
One has only to walk through the door to feel as if they are entering the front gates of the Taj Mahal. Rich, welcoming red walls, red silk curtains, and lush upholstered bolsters recreate the comfort and elegance of an Indian palace. The décor not only entertains customers, it educates them about the Kings and Palaces of India. Yellow and red plates reflect the vibrant walls.
"We chose the red color because in India, red means a warm welcome. It is a warm and lucky color," said Asad Sheikh, Curry Mantra's owner,
As for the food, "We are known for our curries," Sheikh says.
The word "curry" simply means "sauce" or "gravy," and derives its name from the south Indian word "Kari." It basically refers to a spicy dish of vegetable or meat that complements rice or bread, enhancing its overall taste.
"Most people don't know that curries vary from region to region, and whereas most Indian restaurants offer curries from only the Northern and Southern regions of India, we offer the widest variety of curries from throughout the country." The restaurant is also known for its butter chicken, one of India's most famous standard dishes.
Diners enjoy the special and authentic plating Curry Mantra offers, like its meals served on a real banana leaf, with a whole coconut outfitted with a straw to access its sweet coconut milk. Dishes include chicken, lamb and goat curries; vegetarian selections; and seafood, Thali, Mughlai Biryani, and Tandoori specialties. Or diners can sample a variety of curries with a platter offering four to five items. Beer and wine are served, and kids under five eat for free. Carry out is also available.
Curry Mantra is open seven days a week: from 11:30 a.m. to 2:30 p.m. for lunch that includes a buffet, and from 5 p.m. to 10 p.m. for dinner. Weekend brunch is offered between 12 and 3 p.m. On many Friday and Saturday evenings between 5 p.m. and 9 p.m. live classical Indian music will be performed. For more information call, 703-218-8128 or visit www.dccurrymantra.com.