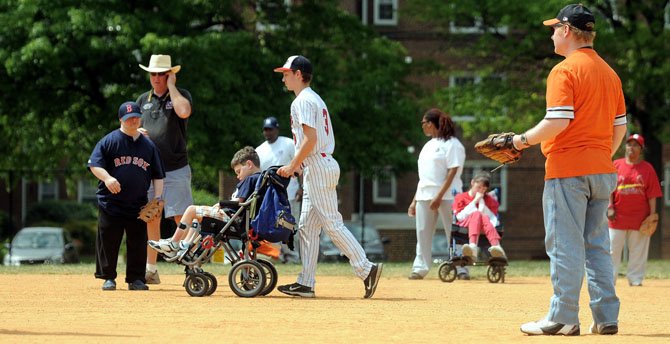 Alexandria — The Miracle League of Alexandria began its 2012 season April 22 with a ceremony at the Lee Center field that included the presentation of several checks that will help fund a new Miracle Field.
"This is not just a field, it will be a destination," said Miracle League president Bill Rivers. "The neighbors have been very supportive and depending on the cost, we may even be able to add lights."
Owen Malone of the Alexandria Rugby Club and O'Connell's Restaurant presented a $1,000 check to the Miracle League while President of Alexandria Little League Bill Gehrig and executive director of the Alexandria Soccer Association Tommy Park each presented checks of $5,000 to the league.
"I have a brother with autism and have seen him benefit greatly from programs like the Miracle League," Park said. "We have our own soccer program for special needs participants and are excited to see this field come to be."
The Kelley Cares Foundation presented a check for $10,000 on behalf of the upcoming Kelley Cares Race next month.
"We hope to commit another $30,000 to the project," said Lindsay foundation spokesperson Lindsay Swanson. "The more runners that participate in our race, the more we will be able to support the Miracle League and the construction of the field."
Construction on the synthetic turf field, developed specifically for use by special needs athletes, will begin in July and is expected to be completed in October.
Members of the T.C. Williams baseball team joined Mayor Bill Euille on the field for the first pitch followed by cheerleaders from the Mount Vernon Recreation Center to lead off the game. Members of the Psi Nu Chapter of Omega Psi Phi fraternity again donated the food for league players and visitors.
"We wanted to give the players a feeling of being at the ball park," said fraternity member Laverne Short. "This is our second year and we love doing this for the kids."
The Kelley Cares Foundation Road Race will be held May 19 at 8 a.m. at George Washington Middle School. All proceeds from the road race will go to the construction of the Miracle Field at the Lee Center. For race information visit www.kelleycares.org.
For more information on the Miracle League, visit www.miracleleagueofalexandria.com.