Photo Gallery
Miracle League season finale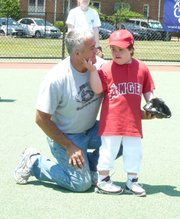 Volunteers and participants in the Spring Miracle League season gather for a photo prior to the closing game June 1 at the Kelley Cares Miracle Field at the Nannie J. Lee Center
Click Photo for Flash
Alexandria — The 2013 Spring Miracle Baseball League completed its season June 1 at the Kelley Cares Miracle Field with Uncle Slam from the Potomac Nationals baseball team on hand for the closing game festivities.
Also joining the special needs youth and adult participants were members of the Baysox Coach Pitch baseball team, the T.C. Williams High School baseball team and the Omega Psi Phi fraternity, who all season provided complimentary hot dogs, chips and drinks for players and volunteers.
During the first full season on the new Miracle Field, participants took part in bean bag toss, basketball and soccer games as a warm up to the weekly Miracle League game.
For more information on the upcoming Miracle League season, visit www.miracleleagueofalexandria.com.