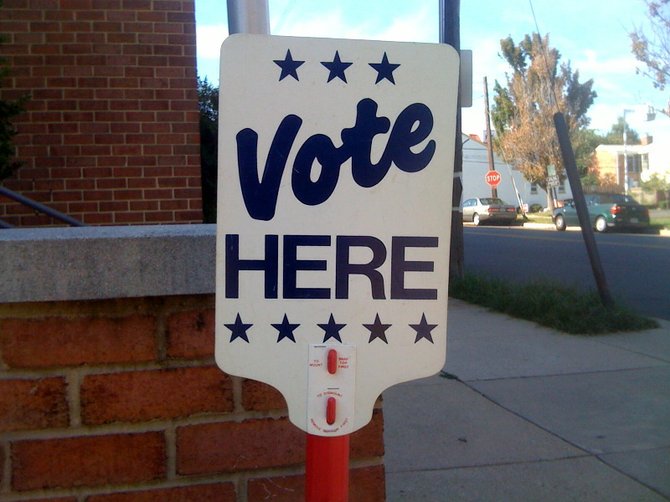 Money Raised
$37,906: Sean Holihan
$23,418: Tim Lovain
$21,202: Justin Wilson
$15,811 Allison Silberberg
$9,588: John Chapman
$8,959: Melissa Feld
$7,804: Donna Fossum
$7,796: Del Pepper
$7,500: Arthur Peabody
$2,686: Michael Hepburn
$2,029: Boyd Walker
$1,175: Paul Smedberg
$662: Sammie Moshenberg
$550: Vicky Menjivar
In the first three months of the year, first-time candidate Sean Holihan raised more money than any of his competitors in the campaign for cash this political season. According to recently released campaign-finance records, Holihan is followed by two former incumbents hoping to regain seats the party lost in 2009, former councilmen Tim Lovain and Justin Wilson. The primary election is June 12.
"Often people who run for office are afraid to take strong positions. That's never been my style," said Holihan. "And I think that's helped in terms of fundraising."
Overall, candidates have raised about $150,000 so far this election cycle. The biggest single contribution so far in the election cycle is $3,500 from Del. David Englin (D-45) to Holihan, helping to vault the first-time candidate to the top slot. Communications firm Donmoyer Miller also made one of the season's largest single contributions so far, $3,000 to former incumbent Councilman Justin Wilson, hoping to make a comeback this year.
"As a general rule, it's better to raise more money than not," said Kyle Kondik, political analyst with the University of Virginia's Center for Politics. "Then again, candidates who spend more money than their competitors lose all the time."
In his independent campaign against Democratic incumbent Mayor Bill Euille, former Vice Mayor Andrew Macdonald has had a hard time keeping pace. In the first three months of this year, Macdonald posted only $190 — $100 from supporters and a $90 loan from the candidate. That stands in stark contrast to the mayor's fundraising total for this year, which is $6,945. The mayor's top contributors include $1,000 from developer Myron Erkiletian, $500 from Lindsay Cadillac and $500 from the accounting firm of Renner and Company.
"This is basically why I'm running," said Macdonald. "The mayor's got all these connections who stand to gain from development in this city, and I don't think it's good for Alexandria."
IN-KIND CONTRIBUTIONS are an important part of campaign finance, although critics say candidates often post large-dollar amounts to provide a boost to the bottom line. Some of the largest in-kind donations posted this cycle include political consulting and campaign services. First-time candidate Allison Silberberg received $5,000 in videography from Double R Productions. And first-time candidate Melissa Feld posted a $2,900 in-kind contribution from Power Base Associates for campaign consulting.
"All candidates want to make it look like they've raised as much money as possible," said Kondik. "But it's also a way for people to show support for a candidate by donating services."
The campaign season has presented a stimulus package of sorts for the city's restaurant industry.
Tim Lovain noted a $2,500 in-kind contribution from Café Pizzaioli owner Lawrence Ponzi. Donna Fossom received a $734 in-kind donation from Tempo Restaurant. Allison Silberberg presented supporters with $733 worth of in-kind food from Los Tios Grill.
"Some of the candidates may have gotten discounts on the food," said Lovain. "I didn't get to eat much but everybody else said the food was delicious."
CONTRIBUTIONS SOMETIMES serve as a who's who of supporters. Planning Commissioner Donna Fossum received $250 from former City Councilman Mel Bergheim. Councilwoman Del Pepper received $500 from Planning Commissioner Stewart Dunn. Councilman Paul Smedberg received $500 from state Sen. Richard Saslaw (D-35). And first-time candidate Boyd Walker received $200 from Elizabeth Gibney, one of the "Iron Ladies of Old Town" who filed a court challenge to the waterfront plan.
"I haven't had time to chase the money as other candidates are obviously doing," said Walker. "I know my fundraising numbers are low, but a lot of my supporters are engaged in a very expensive legal fight against the waterfront plan."
A handful of the candidates have donated to themselves or accepted campaign cash from family members. First-time candidate Michael Hepburn contributed $192 to himself, and first-time candidate Sammie Moshenberg gave her own campaign $550. Longtime incumbent Del Pepper received $1,000 from husband F.J. Pepper. And first-time candidate Vicky Menjivar received $550 from her husband, former executive director of Tenants and Workers United John Liss.
"I love my wife, and I believe in her candidacy," said Liss, who paid for the initial filing fee. "But I don't have deep pockets, so this will not be a self-financed campaign."
TRADITIONALLY, PEOPLE with business before the City Council are not shy about spreading the wealth to support specific candidates. The list of campaign contributors from previous election cycles includes former real-estate powerhouse Mark Winkler Company, land-use attorney Bernard Fagelson and the political action committee operated by Washington Gas. Automobile magnate Jack Taylor is a frequent contributor, and his college-age son was even listed as a supporter of Councilman Smedberg in the last election cycle.
"To be honest, nobody has ever asked me to vote a certain way because of a contribution," said Smedberg in 2009. "I really don't see it that they expect anything from me."
The fundraising totals show this year's Democratic primary is already shaping up to be fiercely competitive. But even after the June citywide election, candidates are going to have to face Republicans. In the last election cycle, Republican Councilman Frank Fannon raised and spent more than any other candidate for City Council, spending $7.24 for each vote. So far this year, he's already raised $7,019.