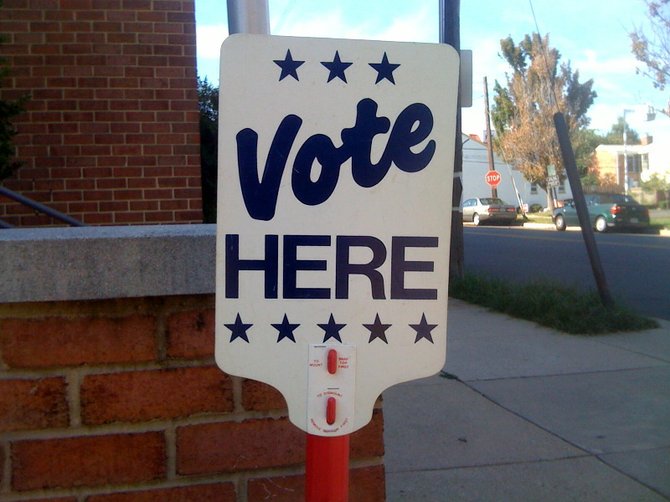 Announced Candidates
Sean Holihan, 30: A native of Long Island, N.Y., Holihan moved to Alexandria in 2007. He studied at Northern Virginia Community College and has worked at his family's construction company. Since moving to Virginia, he has worked for Del. Brian Moran (D-46) and state Sen. George Barker (D-39). He is currently a communications manager for NARAL, and he lives in the Nova Arts precinct.
Tim Lovain, 63: A native of Bradford, Pa., Lovain moved to Alexandria in 1983. He has a bachelor's degree in political science from the University of Chicago, a master's degree from Princeton, and a juris doctor degree from the University of Washington in Seattle. He works as a relations consultant on Capitol Hill, and he lives in the Blessed Sacrament precinct.
Del Pepper, 75: A native of Omaha, Neb., Pepper moved to Alexandria in 1968. She has a bachelor's degree in philosophy from Grinnell College and did graduate work at the University of Wisconsin. She served as a social worker in Cook County before moving to Alexandria and working as an aide to former Mayor Charles Beatley. She lives in the Patrick Henry precinct.
Paul Smedberg, 51: A native of Hartford, Conn., Smedberg moved to Alexandria in 1988. He graduated from Allegheny College in Pennsylvania with a double major in economics and history. He also has a certificate of graduation from the Sorensen Institute for Political Leadership. He works as a director of government affairs for Affymax, a pharmaceutical company based in Palo Alto, Calif. He lives in the Lyles-Crouch precinct.
Charles Sumpter, 26: A native of the Bronx in New York City, Sumpter came to Alexandria in 2009. He has a bachelor's degree from Union College in Schenectady, N.Y., and a master's degree from Catholic University. He worked in government for the last six years in policy legislation and government contracting. He lives in the Tucker School precinct.
Justin Wilson, 32: A native of Cheverly, Md., Wilson moved to Alexandria in 2001, though he also lived in the city for two years shortly after he was born. He has a bachelor's degree in business information systems from Virginia Commonwealth University, and works at Amtrack as a systems engineer. He lives in the Mount Vernon precinct.
Alexandria — Six candidates officially launched their campaigns this week at a meeting of the Alexandria Democratic Committee, and several more are expected in the coming weeks. The stakes are high for Democrats, who are eager to reclaim two seats they lost back in 2009 while retaining the four seats they currently hold. This year marks the first election cycle in the history of the city that local candidates are going to appear on the same ballot as the presidential race — a high-turnout election that will bring many Democrats to the polls who would not otherwise vote in a springtime city election.
"Hey, Mr. President, November 2012 — don't forget we're on the same ticket," Democratic Mayor Bill Euille said to President Barack Obama at a fundraiser this week, according to a story recounted later by the mayor. "He said, 'That's right. What can I do?' I said come on over to Alexandria."
Euille is likely to be unopposed in the primary, leaving the upcoming Democratic primary fight as the main attraction in the coming months. Republicans are going to hold a caucus, and the party will probably not be able to field more than six candidates. As a result, the coming months will see a fierce battle among the Democratic candidates to nail down the six slots on the Democratic ballot for the general election. Because Democrats will hold such an advantage being on a presidential ticket for the first time, the fight for the six slots will take on an added intensity leading into the primary.
"Unfortunately, our Republican friends have a very different view of what our city and state should look like," said Sean Holihan, a first-time candidate. "That's why we have to keep fighting for a more progressive Alexandria. It's a fight we can win, and it starts with sending the two Republicans on City Council back home."
Last month, Holihan was critical of how the city handled a controversial redevelopment in Arlandria. Council members ended up approving the proposal despite massive opposition. Holihan said the process suffered from a lack of communication between city officials and neighborhood residents, and that a better dialogue might have been able to lead to better compromise to include affordable housing. Holihan is not the only Democratic candidate to offer criticism of incumbent Democrats in recent years. Newcomer Charles Sumpter said he would have voted against the Arlandria redevelopment and added that the city has dropped the ball on economic development on the West End.
"We've lost sight of the end goal for Landmark Mall," said Sumpter, who is not currently a member of the Alexandria Democratic Committee but says he will be by the primary. "We need to get back on track."


WITH ALL the incumbent Democrats seeking reelection except Vice Mayor Kerry Donley and Councilman Rob Krupicka, recent controversial decisions will take a central role in the upcoming campaign for City Council. Aside from the Arlandria redevelopment, which was widely criticized as gentrifying a neighborhood in a way that will displace poor and Latino residents, another hot-button issue is the city waterfront small-area plan that would allow hotels at three sites slated for redevelopment and increase density.
"The positions we've had to take recently I know that some of you aren't quite pleased with," incumbent Councilman Paul Smedberg told members of the Alexandria Democratic Committee at the Minnie Howard Ninth Grade Center on Monday, Jan. 9. "So I know it is not going to be easy."
One issue that is certain to become a central focus of the campaign is traffic gridlock at the Mark Center, where 6,400 new Department of Defense will be working by July. The Washington Headquarters Service was located here as a result of recommendation 133 of the Base Realignment and Closure Commission back in 2005. Three years later, a deputy city manager sent a letter to the Department of Defense endorsing the site, adding that the city was "comfortable that sufficient capacity will be created" and that "no additional traffic studies are warranted."
"I didn't see that letter until after it was sent," said former Councilman Justin Wilson, who was a member at the time but later lost his reelection bid. "Our discussion up to that point had been about making a zoning determination and figuring out a way to get money in lieu of taxes, so I was surprised to see that transportation was part of the letter."
Likely to Announce
Donna Fossum, 62: A native of Cedar Rapids, Iowa, Fossum grew up in New Mexico and moved to Alexandria in 1982. She has a bachelor's degree in anthropology from the University of New Mexico and a master's and a doctorate in sociology and a juris doctor from the State University of New York. She served as an attorney at the American Bar Foundation and on Capitol Hill. After receiving her doctorate, she took up a position at the Rand Corporation and is currently an independent consultant. She lives in the Beatley precinct.
Arthur Peabody Jr., 64: A native of Lynn, Mass., Peabody moved to Alexandria in 1972. He has a bachelor's in political science from Northeastern University and has a juris doctor degree from Cornell University in New York. He was an attorney in the Civil Rights Division at the Department of Justice for 34 years and is currently the lead Medicare counsel for Blue Cross/Blue Shield. He lives in the Chinqunpun precinct.
Boyd Walker, 43: A native of Washington D.C., Walker was raised in Alexandria. He has studied at Northern Virginia Community College, George Mason University, and the University of Virginia. He works as a real-estate property manager and lives in the Durant precinct.
But it was. And the Department of Defense chose the Mark Center over another site known as the Victory Center, which was at a Metro stop and widely assumed to be the leading contender. So much so that the owner asked about $200 million more for the site. Driven by financial considerations, the Department of Defense selected the Mark Center and Alexandria got stuck with the traffic mess. Late last month, U.S. Rep. Jim Moran (D-8) was successful in passing legislation that limited the number of parking spaces at the facility until improvements could be made. But the level of anger over the issue is white hot in the West End. Even during the last campaign in 2009, former Mayor Kerry Donley was critical of the way council members handled the situation.
"In my opinion, the city should have endorsed only one site — the Victory Center," said Donley, who is now the vice mayor because he received more votes than any other council member. "Instead they left the door open for the Mark Center, and I have yet to hear a clear rationale for that decision."
FOR WILSON and former Councilman Tim Lovain, this year's election will be about retribution. Lovain made that point clear when he opened his speech to Alexandria Democrats with: "As I was saying before I was so rudely interrupted by losing by 168 votes last time around in 15 percent turnout." Yet even Lovain was willing to offer some criticism of the recent direction in the city, charging that Arlington and the District of Columbia have engaged in more progressive land-use policy in recent years.
"I'm a big believer in smart growth and transit-oriented development," said Lovain. "And I think that Alexandria's behind the curve on that."
Although the Democratic primary is scheduled for June 12, that date could be pushed back if the General Assembly takes too long to draw new congressional district maps. Alexandria Registrar Tom Parkins said the fallback date would be in August, a time when many people are out of town and the turnout would likely be smaller than in June. Whenever the primary is held, Democrats are bracing for a fight. In addition to the candidates that formally announced this week at the Alexandria Democratic Committee meeting, more are still waiting in the wings to potentially launch campaigns in the coming weeks. They include School Board member Arthur Peabody, Planning Commissioner Donna Fossum, former Police Chief David Baker and activist Boyd Walker.
"I think the waterfront is going to be one of the hottest issues this year," said Walker, who said he was waiting for a final vote on the small-area plan before making a final determination on a potential candidacy. "Anyone who votes for this plan should be voted out of office in my opinion."