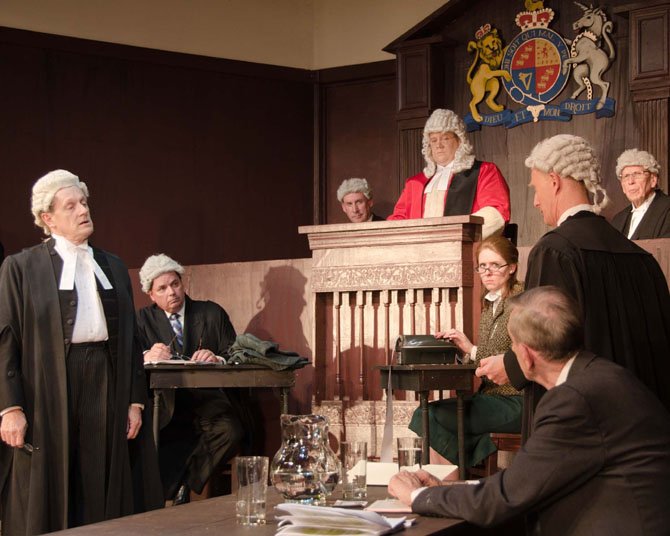 It's 1954 and Leonard Vole stands accused of the murder of a rich elderly woman whom he befriended. His wife's testimony could save him until she suddenly becomes a "Witness for the Prosecution" in the Agatha Christie thriller now playing at The Little Theatre of Alexandria.
Leonard's only hope is to seek the aid of famed barrister Sir Wilfred Robarts, who is puzzled by the circumstances surrounding the death of Emily French, a wealthy widow who made Leonard the principle beneficiary of her estate mere weeks after meeting him.
Using the audience as the jury, Director Eddie Page moves "Witness" along at a quick pace as facts are discovered, alibis debunked and motives debated as Leonard's trial unfolds.
Mark Lee Adams is Sir Roberts, who slowly elicits crucial details from an array of witnesses in his pursuit of proving Leonard's innocence. Assisted by John Barclay Burns' Mr. Mayhew, they attempt to piece together the clues to solve the crime.
Adams leads the cast with a commanding performance and is especially engaging to observe during his courtroom scenes with James McDaniel as the opposing barrister.
Robin Zerbe is compelling as Romaine, Leonard Vole's mysterious wife and key witness in the trial.
The accused man is portrayed by Russell Silber, who paints Leonard as a naÔve and gentle soul seeking to garner the sympathy of the jury.
Together, Zerbe and Silber masterfully keep the audience engrossed in the twists and turns of the trial and guessing until the very end "Did he or didn't he?"
The supporting cast includes standouts such as Jeffrey Clarke as the judge, Larry Grey as Dr. Wyatt, Peter Alden Hyde as Inspector Hearne and Elisabeth Richters as Roberts' secretary Greta.
Veteran actress Cheryl Sinsabaugh, making her LTA debut, is especially delightful as the victim's loyal housekeeper Janet McKenzie, whose testimony punctuates the trial proceedings with chuckles.
With a creative revolving set by John Downing, costumes by Susan Boyd and wigs by Bette Williams, "Witness" perfectly augments Christie's surprise ending script.
Will a guilty man escape justice or an innocent man hang from the gallows? Well-staged, well-acted and well-written, LTA's "Witness for the Prosecution" is an intriguing courtroom drama worth bearing witness to.
"Witness for the Prosecution" is playing now through May 12 at the Little Theatre of Alexandria, 600 Wolfe St. For tickets or more information, call 703-683-0496 or visit www.thelittletheatre.com.