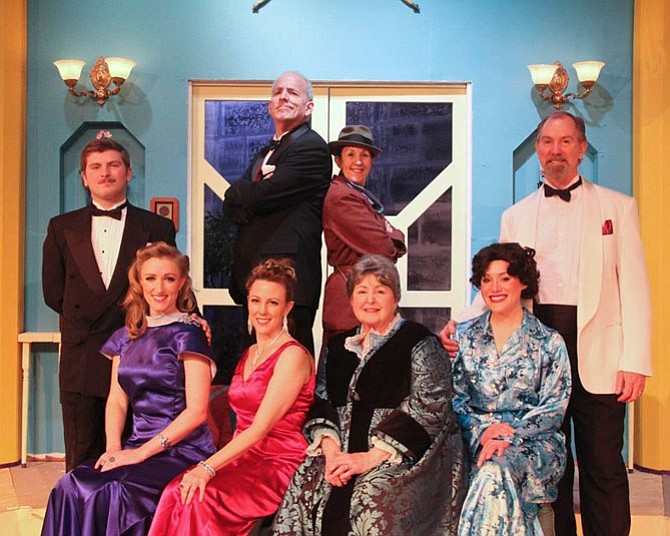 The Little Theatre of Alexandria is presenting the witty and fast-paced "The Game's Afoot or Holmes for the Holidays," Jan. 17 through Feb. 7.
Directed by Frank Pasqualino and produced by Rachel Alberts and Bobbie Herbst, this whodunit play takes you back to 1936 and the Connecticut mansion of William Gillette, the actor known for his portrayal of Sherlock Holmes. Add in a blizzard and a house full of guests and murder can't be far behind.
Director Pasqualino said the play is a cross between Agatha Christie, the queen of the murder mystery, and Ken Ludwig, the crowned prince of modern farce. "Put them together and you have 'The Game's Afoot,'" he said.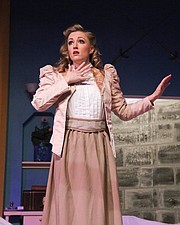 "It's always a good sign, when I'm presented with a comedy to direct, that I laugh out loud on the first reading," he said. "'The Game's Afoot' offered me that pleasure. It's a fun piece of whodunit nonsense, peopled by some of our favorite kinds or characters: theater folks behaving badly. There are inflated egos, grand gestures, melodramatic moments of wounded pride, boundless bitchiness and great camaraderie."
Pasqualino said "'The Game's Afoot' manages to be a loving embrace of the Agatha Christie formula of murder mystery — a group of people isolated by weather, or on a train or ship or plane (in this case, it's a snowstorm) — combined with the farcical escapades for which Ludwig is famous. An inspector calls, and the false confessions, red herrings, and … well, I'm not going to ruin it for you."
John Henderson plays the role of William Gilette, who was a famous actor and playwright in the late 19th and early 20th centuries. The playwright Ken Ludwig created a fictional story using as background some facts about Gillette — that he wrote a Sherlock Holmes play with the blessing of Sir Arthur Conan Doyle and starred in it for several decades, and that he became wealthy and designed a castle for himself in Connecticut reflecting many of his eccentricities.
He said Ludwig has altered a few of the details from Gilette's life for his suspenseful, comic and farcical play. He added the short Sherlock Holmes play-within-a-play that we see in Ludwig's play is a broad takeoff from Gilette's play, rather than an actual scene from it.
He said the characters are forced to respond quickly to a series of rapid unexpected developments in the plot, sometimes continuing to perform them theatrically, and sometimes behaving very differently from their theatrical personas.
"So one of the major challenges for all of us in the cast is to take our very theatrical characters through all these onstage and offstage transitions," he said. "Also, given the fast pace of the story, and the sometimes strenuous physical actions that the characters must perform during the play, this piece challenges all of us in the cast to maintain a very high level of energy and focus throughout the show."
Patricia Spencer Smith plays the role of Martha Gillette, William's mother who is sometimes impatient with her son's behavior and fiercely protective of him. "She delights in the theatrical, and might not always be what she seems to be," she said.
One of the challenges in portraying Martha was her mercurial nature, she said. "She can change in a flash -- often when you least expect it."
She said she hopes that the audience will be constantly engaged and guessing. "I hope when they leave they will still be laughing and saying to their friends, 'Well, I certainly didn't see that coming!'"
Chuck Leonard plays the role of Felix Geisel, the character he was most drawn to when he saw Ludwig premier "The Game's Afoot" at The Kennedy Center a few years ago. "Felix offers a great range to an actor -- at different times sincere, shallow, jealous, loving, witty, foolish, and highly stressed," he said. "Throughout, Felix reacts largely, perhaps letting his 'ham' actor qualities overshadow wisdom."
He said he found the physicality of his character challenging. "My other favorite challenge was finding the best blend of subtle nuance and over-the-top reaction for my character."
He said he hopes the audience leaves the show talking about how often they were surprised and laughing as they remember what surprised them.
Maureen R. Goldman plays the role of Aggie Wheeler, a woman who is excited about life and has an exuberance that is infectious, but at the same time she really wants to be loved. "Finding the qualities that make her real and flawed are the most fun to play because they make her relatable to the audience and make her story that much more compelling," she said.
She said bringing to life the different characteristics of Aggie as she learns new information and changes her mind about people was her biggest challenge and one she found to be most exciting. "I haven't performed in this type of farcical show before and am really enjoying the challenge it brings me as an actor," she said.
She adds: "I want the audience to be able to laugh along with us but still be surprised in the end."
Melissa Dunlap plays the role of Daria Chase, a theater critic with a clever and sharp wit. "As a theater critic she says what she thinks and doesn't hold back," she said. "The others are afraid of her and she uses their fear for her own ends."
She said she usually gets cast in roles that call for her to be sweet and sometimes innocent, and because Daria doesn't embody those qualities, her challenge was to work at being louder, pushier, and meaner.
She adds: "When friends ask me what the play is about, I tell them that 'The Game's Afoot' is a murder mystery farce. When they come they can expect to see a mystery to be solved, lots of doors opening and closing, and have a good laugh. I hope audiences leave with a smile on their face."
The Little Theater of Alexandria is presenting "The Game's Afoot" Jan. 17 through Feb. 7. Tickets are $19 to $22. Show times are Wednesdays through Saturdays at 8 p.m.; Sunday matinees at 3 p.m. The theater is located at 600 Wolfe Street, Alexandria, VA 22314. For details, visit the web site at www.thelittletheatre.com. Call the box office at 703-683-0496.