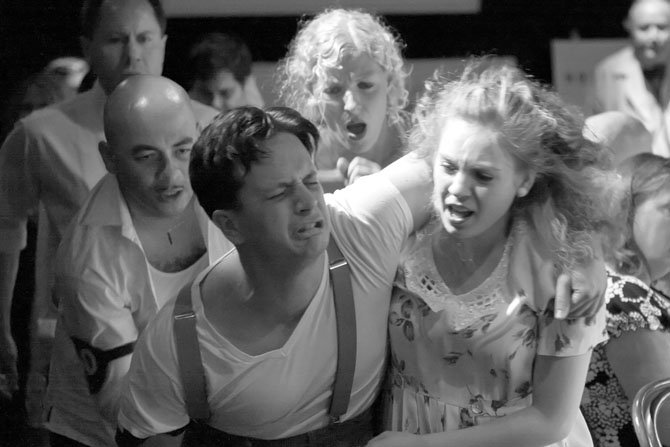 Inducing people to endure discomfort, pain and humiliation for the promise of cash prizes sounds like a season of "Survivor" or "Fear Factor." Encouraging contestants to engage in sabotage, back-stabbing and psychological warfare? That could be an episode of "The Apprentice" or 'Big Brother." Instead, it's an inside look at the dance marathon craze of the Great Depression as told through the rarely-produced play "Marathon '33," now playing at American Century Theater in Arlington.
"This is only the fourth professional staging of the play since 1964," said TACT co-founder and director Jack Marshall. "It's a huge cast and there are a million reasons to scare people off from producing it but it's exactly the kind of thing I like to do."
Photo Gallery
American Century Theater- Marathon '33
Click Photo for Flash
Written by June Havoc, "Marathon '33" is an autobiographical look at Havoc's life following her vaudeville career as Baby June, the perky, pint-sized daughter of maniacal stage mother Momma Rose. Following her early years as chronicled in the musical "Gypsy," Havoc struggled as a dance marathoner before getting her break as an actress in the 1940 Broadway production of "Pal Joey" opposite Gene Kelly.
Set during the autumn of 1933, the production places the audience in the roles of the sadistic spectators of the marathons by converting Gunston's Theatre II into an authentic marathon arena.
"This is an awesome piece of entertainment," said Bruce Rauscher, who plays the lead opposite TACT newcomer Jennifer Richter as June Havoc. "Works like this are just not done around here and it's exciting to be a part of Jack's vision."
THIRTY ACTORS and dancers are joined by an onstage six-piece band, which plays musical numbers from the period and accompanies songs and comic routines by the contestants who often performed for the crowd in return for thrown coins.
With musical direction by Tom Fuller, "Marathon '33" is produced by Rebecca Christy in her first show with longtime collaborator Marshall since her production of "The Andersonville Trial" earned TACT a Helen Hayes nomination for Outstanding Local Production.
Richter and Rauscher, who always delivers a stellar performance, combine for a formidable theatrical force and are joined by other TACT standouts including Bill Karukas and Craig Miller.
The ensemble cast includes Terrence Bennett, Mary Beth Luckenbaugh, Dan Corey, Deborah Critzer, Carrie Daniel, Colin Davies, Ann DeMichel, Frank Britton, Elizabeth Hallacy, Paul Hogan, John Klenk, Steve Lebens, Chanukah Jane Lilburne, Rachel Loose, Noah Mitchel, Jared Murray, Carolyn Myers, Jamie Ogden, Alex Perez, Jane Petkofsky, Aviva Pressman, Robert Priego, Josh Rosenblum, Karin Rosnizeck, Emily Thompson and Alex Witherow.
Recreating the phenomenon that was also depicted in the 1969 movie "They Shoot Horses, Don't They?" set designer Michael P. de Blosis draws the audience in with a keen eye to local period details, as does costume designer Rip Claassen.
But the compelling story is told through the talented cast, whose desperation during the Depression is palpable under Marshall's gifted direction.
"The star of the show is the marathon," Marshall said. "It was the intent of the author to have the audience feel like they were at the event. The characters are supporting the story of the woman who wrote the play but the bottom line is drawing the audience into the entire experience."