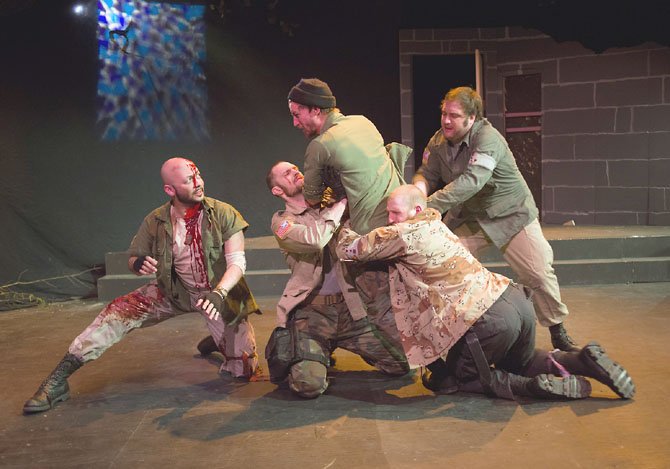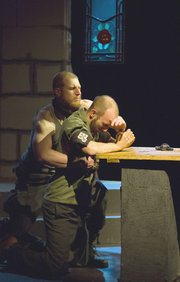 Arlington — William Shakespeare's "Macbeth," considered by many to be one of his darkest tragedies, tells the story of a Scottish general named Macbeth who commits murder to become king and fulfill his ambition for power. In 1936, a young Orson Welles staged his own legendary adaptation of the play, "Voodoo Macbeth," which is reimagined now by The American Century Theater.
Directed by Kathleen Akerley, TACT's production diverges from Welles' original staging and casting concepts, which moved the setting to Haiti and replaced Shakespeare's original themes of witchcraft and the occult with practices of voodoo.
Using an all-male cast, Akerley returns "Voodoo Macbeth" to Scotland, where a battalion of American servicemen is stationed in the futuristic year 2033. Their Christian faith is combined with Wiccan-like practices to depict the story of Macbeth's murder of King Duncan and subsequent tyrannical rule.
Joe Carlson is compelling as Macbeth with the talented Matt Dewberry joining him as Gruoch, Macbeth's closet confident and Akerley's replacement of the traditional Lady Macbeth role.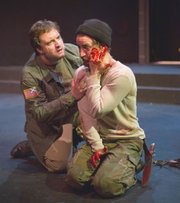 Other performers in the ensemble cast include Frank Britton as Banquo, Theodore M. Snead as Duncan, William Hayes as Hecate, and James Miller as Ross.
Akerley is joined by the talented production team of Tyler Hermann and Annalisa Dias-Mandoly (assistant directors), Frank DiSalvo Jr. (sound design), Jason Aufdem-Brinke (lighting design), and Casey Kaleba (choreography). Akerley herself is behind the appropriately eerie set and costume designs.
Although TACT is known for its revivals of often overlooked American plays, this production of "Voodoo Macbeth" is more a tribute to Welles' creative style rather than a traditional re-staging of his script. In that regard, Jack Marshall's Artistic Director's Notes in the program book are a must-read to make sense of this unconventional story line so allow a few extra minutes prior to the show to gain a better understanding of Akerley's complex vision.
With its blood, gore and occult influences, "Voodoo Macbeth" is not for everyone and TACT's adaptation in particular is geared towards an audience with a heightened appreciation for Welles' groundbreaking interpretation of Shakespeare's tragic tale.
"Voodoo MacBeth" is playing now through April 13 at American Century Theater, The Gunston Arts Center, Theater II, 2700 South Lang Street, Arlington. A talkback discussion with cast and crew will take place following the March 28 performance. For tickets or more information, call 703-998-4555 or visit www.americancentury.org