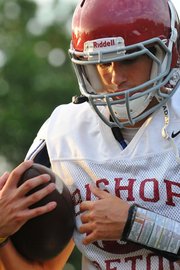 Two days after Bishop Ireton's 2011 season had ended, Tony Verducci charted the win totals of his five seasons as the school's head football coach and noticed an "unfortunately cyclical" pattern.
The data read like this: nine wins in 2007, four in 2008, seven in 2009, three in 2010 and eight in the recently completed 2011 campaign. After experiencing drop-offs in 2008 and 2010, Verducci wanted the Cardinals focused and motivated toward maintaining success in 2012.
"The point that I wanted to make was that eight goes in whatever direction we earn," said Verducci, referencing last season's win total. "There's nothing that says eight has to go down, there's nothing that says eight can't go up."
Facing the challenge of maintaining success from one season to the next, the Bishop Ireton football team doesn't have to look far for motivation. In fact, the Cardinals can't seem to get away from it.
Ireton's 2011 season ended in agonizing fashion. Leading 34-31 late in their first round playoff game against St. Christopher's, the Cardinals had the Saints facing fourth-and-16 from their own 1-yard line. With their season on the line, the Saints executed a hook-and-ladder play, which turned into an improbable 99-yard touchdown and led to a 38-34 St. Christopher's victory.
Video evidence of the play is available on YouTube — it's the first video that shows up when you search "99 yard hook and ladder," said junior outside linebacker Hudson Sullivan, who said he feels "horrible" when he watches it. Sullivan isn't the only one who has seen it.
Senior quarterback P.J. Sullivan said he's seen the replay "1,000 times," in different places.
"You're always reminded of it," he said. "It doesn't go away."
Zingler's performance in 2012 will have a major impact on whether Ireton can match — or eclipse — last season's win total. Zingler enters his third year as the team's starting signal caller. With the loss of game-changing receiving threats Moses Webb and Malcolm Westbrook to graduation, Zingler will have to rely more on his ability to read a defense and find an open receiver, rather than simply relying on Webb or Westbrook to make a play.

"You're always reminded of it. It doesn't go away."

— Bishop Ireton quarterback P.J. Zingler about the 99-yard hook-and-ladder play that beat the Cardinals in last year's playoffs.
"It's tremendously important," Verducci said about having a third-year starter at quarterback. "No. 1, he's bigger, he's stronger and he just looks more mature than he did a year ago. Having a guy who understands the offense, who can now go from looking for people to just reading the defense, that's what we're looking for from him this year. Last year, he knew if he got in trouble, he could find Moses and Malcolm and things were generally going to be fine. This year, we have a good group of talented, albeit inexperience receivers, and I think it emphasizes for PJ the need to trust his reads, as compared to trusting in a couple of really gifted receivers."
Seniors Justin Page and Austin Carter, junior Sullivan and sophomores Drew Smith, Jairdan Walker and Brenden Peifer could see time at receiver.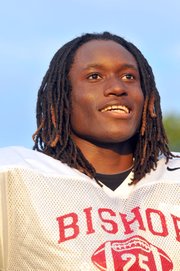 Leading the way on the ground is senior running back Brandon Williams-Price, who rushed for more than 1,000 yards last season. Verducci said Williams-Price will likely be the focal point of opposing defenses.
"I think Brandon will be a marked man this year," Verducci said. "Last year when I spoke to my fellow coaches at the independent school, they all acknowledged that their primary concern was Moses. I think coming in this year, a lot of the primary concern is going to be for people to have to account for Brandon Williams-Price. He's got that gear to make a bad play a great play."
Senior Geno Miller, a transfer from Bishop McNamara, could also see time at running back. Miller is primarily a defensive back, and said he has received interest from colleges such as Old Dominion, Stanford and Richmond.
Senior Jimmy Keegan, a three-year starter and all-state selection, returns at left tackle. Josh Reed, Jacob Bisnett, Kieran Grogan and Cullen Pointon will also see time on the offensive line.
Defensively, Miller is a standout cornerback. When asked if playing at a new school makes him feel as if he has something to prove, Miller said he always feels that way.
"That's how I play — I play with a chip on my shoulder," he said. "I don't like going out here and thinking anything is going to be handed to me. I just go out here and do what I've got to do to get my spot."
Sullivan is a standout at outside linebacker. Mike Sampson moved from defensive line to outside linebacker in the Cardinals' 3-4 scheme. Jack Beer and Christian Frazier return on the defensive line.
Ireton will open its season on the road at 3 p.m. on Friday, Aug. 31 against Bishop O'Connell.