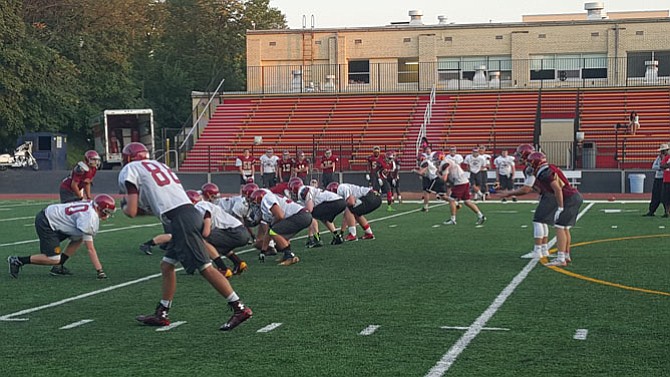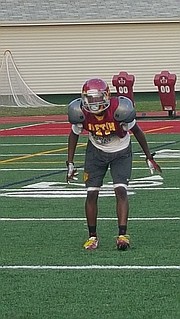 As members of the Bishop Ireton football team labored through end-of-practice conditioning drills on a Friday evening, Corey Johnson encouraged his Cardinal teammates by putting their pain in perspective.
"Running a sprint," the rising senior recalled saying, "doesn't hurt as bad as the pain of losing a championship."
Bishop Ireton reached the VISAA Division 1 state championship game last season, but fell short against Benedictine, 23-7. The Cardinals return eight starters on defense and six on offense from the 2014 team that finished 8-4, including a playoff victory over Saint John Paul the Great. The team is focused on getting back to the title game and winning its first VISAA state championship since 1992, when Bishop Ireton and St. Anne's-Belfield were co-champions of Division 2.
"There's a greater sense of purpose because now we know we can play at that level," Ireton head coach Tony Verducci said, "so now there's a greater sense of purpose to return and to finish it."
Rising senior tight end Ryan Verducci said losing in the state final has had a significant impact on the Cardinals.
"I think that's the focal point of everything that we do," Ryan Verducci said. "[Assistant] coach [Stevie] Jones took a page out of [Seattle Seahawks quarterback] Russell Wilson's book, saying 1-0 each week. You've got to win each week. We've taken it a step further saying you've got to win at practice, you've got to win stretching beforehand — everybody's got to be healthy. Just knowing that we were one game short, it's affected everything that we do offensively and defensively."
Johnson, a 5-foot-11, 160-pound cornerback, is one of the top players in Ireton's 3-5 defense and one of eight returning starters on that side of the ball. He moves around the field, defending the opposition's top receiver.
"[Johnson is a] confident player [with a] great football IQ who's going to show up in the big moments all the time," Coach Verducci said. "Corey allows everyone around him to play with a greater sense of confidence because he's a guy who can cover up other people's mistakes.

"... We want to make life uncomfortable for other people and that means that when there is somebody who really has an offense that is geared toward one player, [Johnson is] going to be on that side of the field."
Rising senior Bernie Hayes (5-9, 170) returns at inside linebacker.
"Bernie is a consummate team player and the football version of a gym rat," Tony Verducci said. "He eats, breathes and prepares for football when he's not playing it."
Hayes said having eight returning defensive starters brings confidence.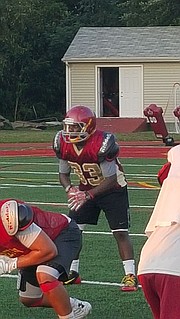 "It really helps me to trust the person right next to me," Hayes said, "knowing I know what he can do and he knows what I can do."
Verducci called rising junior strong safety Michael Everett (6­-0, 180) "about as talented a defensive player as we've ever had around here."
Rising senior end Trey Lovisone (6-1, 220) is also a leader on defense.
On offense, Bishop Ireton will continue working out of the spread, though Verducci said he would like to run more plays from under center.
Rising juniors Chandler Wilder (6-0, 195) and Walker Venable (5-11, 180) are competing for the starting quarterback position following the graduation of standout signal caller Joe Dickinson, who completed 60 percent of his passes for 2,629 yards and 27 touchdowns, with nine interceptions in 2014.
His top target, Drew Smith, who caught 56 passes for 1,022 yards and 16 touchdowns, also graduated.
"Joe made great decisions with the football and threw it all around the yard," Verducci said. "We'd like to be a little bit more effective and efficient running the ball to put ourselves in better positions, and not have to rely on a kid with a big arm to convert to Drew when you're in third and long."
Rising junior Perris Jones (5-9, 170) returns at running back. He rushed for 746 yards and seven touchdowns as a sophomore, averaging 4.7 yards per carry.
"He's as hard a worker as anybody we've ever had around here," said Tony Verducci, who enters his ninth season as Ireton head coach. "The big thing with Perris is keep him healthy because he's truly one of those young men if he gets in space ... who can turn three [yards] into 30."
Ryan Verducci (6-2, 200) will be one of Ireton's top pass-catching threats.
"You have that confidence [in him] because he's a tough kid with great hands," Coach Verducci said, "and when you're in that [third-and-five situation], the quarterbacks all know if they get the ball near him he's going to make the catch and convert and turn it over for us."
Rising junior Sam Smith (5-11, 160) and Jones are also receiving threats.
Rising seniors Patrick Gallagher (6-5, 193), Matthew Perham (6-1, 240) and Jack Retcher (6-1, 180) return along the offensive line.
Key special teams players include rising senior kicker David Cooper (6-0, 160) and rising senior long snapper Bryce Simpson (6-0, 150).
Bishop Ireton will host scrimmages against Landon (4:30 p.m., Aug. 25) and St. Christopher's (4:30 p.m., Aug. 27). The Cardinals will open the regular season on the road against Nansemond Suffolk Academy at 7 p.m. on Friday, Sept. 4. Ireton's first home game is at 2 p.m. on Saturday, Sept. 12 against Bishop O'Connell.