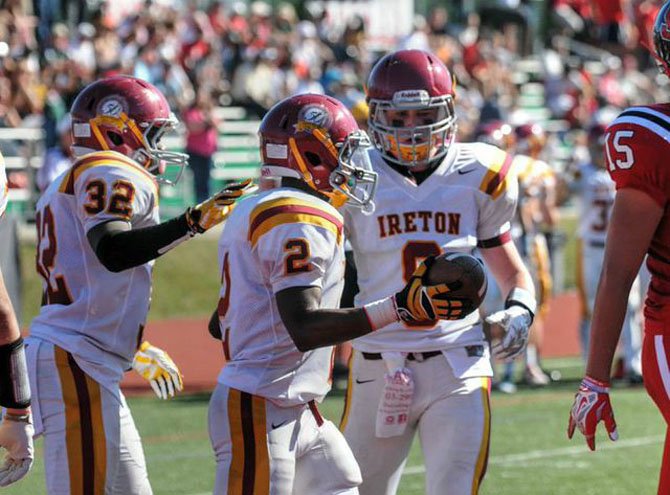 Bishop Ireton football coach Tony Verducci knows a thing or two about rivalries.
As a Naval Academy graduate and former player/graduate assistant with the school's sprint football team, Verducci is well-versed in the importance of the Commander-in-Chief's Trophy, which is awarded annually to the winner of the competition between the Air Force, Army and Navy football teams.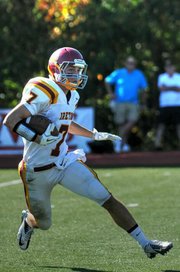 While no such trophy exists for the competition between the trio of private schools in Alexandria, Verducci and the Cardinals set their sights on earning bragging rights in the city. After beating Episcopal 26-24 on the Maroon's home field Sept. 20, Bishop Ireton finished the job in convincing fashion.
Ireton defeated St. Stephen's & St. Agnes 41-17 on Sept. 27 at SSSAS. The victory gave the Cardinals a three-game winning streak and improved their record to 4-1. It also gave Ireton bragging rights in Alexandria.
"We talked before [the] Episcopal [game] about claiming Alexandria," Verducci said. "With me as a Naval Academy grad, you have the Commander-in-Chief's Trophy, and the guys talked about a mythical City-of-Alexandria trophy. After we won the first one, there was definitely a sense of pride and let's go get the second one to claim that mythical title amongst the private schools in [Alexandria]."
The Cardinals led the Saints 21-10 at halftime and 28-10 entering the fourth quarter. Senior quarterback Joe Dickinson, who transferred to Ireton from El Paso, Texas, in January, completed 14 of 18 passes for 259 yards and a touchdown. He was intercepted once.
Sophomore running back Perris Jones, another first-year Ireton player, carried 19 times for 105 yards and two touchdowns. Senior receiver Drew Smith, in his fourth year with the Cardinal varsity, caught seven passes for 165 yards and a score.
Senior linebacker Nigel Bullard led the Ireton defense with 10 tackles and a sack. Junior defensive back Charlie Ladd had nine tackles, and junior defensive back Alex Duke had eight tackles and a sack. Junior cornerback Corey Johnson snagged an interception.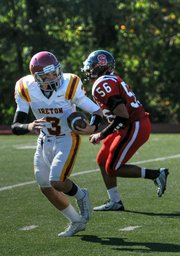 After a 1-9 record in 2012 and a 4-6 mark in 2013, Verducci credits the Cardinals' hard work and an influx of talent for the program's turnaround in 2014.
Dickinson has passed for 1,239 yards and 11 touchdowns in five games. Jones, who Verducci said is starting to grasp the offense, has 230 yards and four touchdowns. Junior kicker David Cooper, a military-family transfer from Korea, has given the Ireton special teams a boost.
Verducci also mentioned the performance of a four-year Ireton varsity athlete, who is also helping the team.
"I think the other thing would be the rapid improvement of Drew Smith," Verducci said. "He caught 48 passes last year, but this year, if the ball is in the air, it's his. … He gives us a deep threat [and] he gives us a short threat."
Smith has 536 yards and eight touchdowns receiving.
"I think all those [Ireton] teams that even had down years still had a lot of talent on them," Smith said, "it's just this year in practice, we go hard every day."
Senior linebacker Josh Ammon, who missed the St. Stephen's game with an ankle injury, has also been a key part of the defense.
Bishop Ireton's next two games are at home, starting with Friday's 3:30 p.m. contest against Flint Hill (1-3). The Cardinals, who are in second place in the VISAA, will host first-place Benedictine at 1 p.m. on Saturday, Oct. 11.
"We're working together," Ammon said, "we're on the upswing."