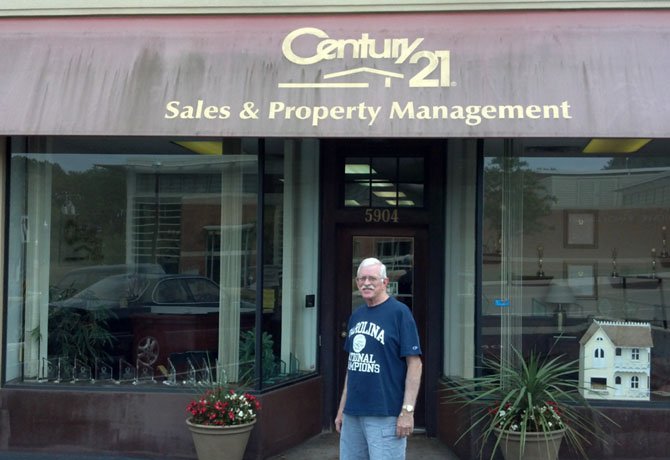 Arlington — INT. PETE'S BARBER SHOP – DAY
Piles of magazines are strewn across the large front window sill. The low light, old fashioned décor and quiet atmosphere create a peaceful setting. Local resident Orod Ashegh seats himself in a swivel chair as barber Chris Hewitt drapes a cape around is neck.
Chris: How short you wanna go?
Orod: Oh hey Chris, let's just do it like last time.
This scene seems stolen from the pages of a script set in a 1950s-era small town, but this slice of life is right here — a neighborhood nestled beside the hustle and bustle of the budding and hectic metropolitan area of Arlington. The neighborhood is Westover.
"Many of the businesses in the neighborhood have been here forever. Pete says the barber shop's been here 80 years. It's a family-oriented area with a small town feel. There's no McDonalds, no Starbucks," Hewitt said.
Fellow barber Gerard Nezet chimes in that, "It's a very walkable neighborhood, families can come with strollers and dogs, you can get whatever you need right here, and likely see someone you know."
Within a two block radius of Westover's hub, the intersection of Washington Boulevard and North McKinley Road, you'll find charming homes, cozy apartments, a slew of enticing restaurants, famed hardware store (Ayer's – an Arlington institution), barbershops, a grocery store, consignment shop, real estate office, florist, dry cleaners, tailor, record store, coffee shop, library, bank, post office and a beer garden. And let's not forget the "Sleddin' Hill" at the field beside the old Reed school.
"The outdoor patio at The Westover Beer Garden draws a great crowd with live music on weekend evenings," said Westover Civic Association President Bob Orttung. "It provides opportunity to have conversations with people you might not normally have; it's an opportunity to get involved and grow as a community."
Jenny Donnella works at the bank behind the post office, "I was in Safeway once and overheard two fellas talking about buying beer. One asked the other, 'should we pick up some beer?' to which the other replied, 'No man, everyone knows the place to get beer is the Westover Beer Garden, they have everything.'" Indeed, checkout the Westover Market for the Great Wall of Beer.
Every Wednesday morning the front lot of the Lebanese Taverna turns into Strollerville as the restaurant is packed inside with tiny tots enjoying live music just for them. And now every Sunday local residents enjoy a brand new Farmer's Market featuring fresh produce. On any given day one could take a walk about and stop at Toby's Ice Cream for a pint, or pop into the Lost Dog restaurant … for a pint.
Perry Gawen, whose father Perry F. Gawen Sr. started Gawen Realty in an apartment in the Rice Building in 1969 said, "Not a lot has changed a great deal since the '50s, the commercial character of the Westover area is essentially the same as it's always been. Of course there have been some proprietor and façade changes but for the most part things have remained pretty much as they were and for me, this area has always been unique."
Keith Kaplin of Ayers Hardware store, a store where one can find just about anything, said, "We've got grandparents coming in showing their grandchildren where they used to shop, and it hasn't changed much."
The village of Westover touts all the benefits of a big city with a suburban serenity all its own. While Arlington has grown up around it, it has remained the same quiet hamlet, relatively unknown to the younger populations of more municipal neighborhoods like Ballston or Clarendon. It provides an inimitable experience of neighborly affection and a sense of community not always found inside the beltway.