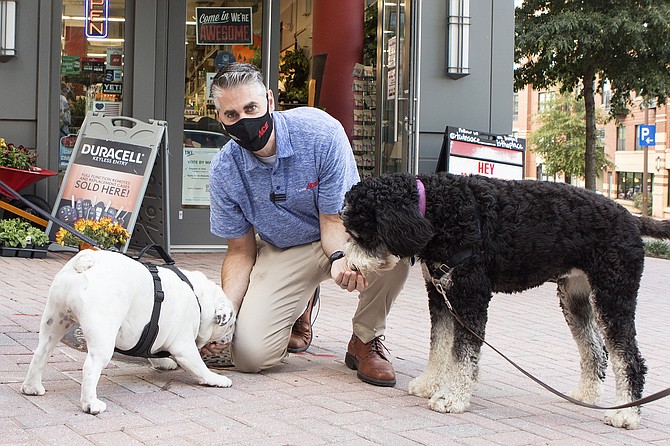 Most days, you can find a steady stream of enthusiastic four-legged customers lined up outside Twins Ace Hardware in Courthouse or scampering through the double glass doors. These welcome visitors come to enjoy special treats and the attention lavished on them by staff and customers. And they don't come alone. Delighted pet parents welcome the opportunity to combine a dog walk with an errand at this neighborhood gem.
Ace is a throwback to a time when general stores were the hub of the community. Co-owner, Jeff Smith says that from cutting a new house key to helping mount a new TV or just providing a little friendly DIY advice, Ace is about service, not just hammers and nails.
And you really do feel that old world, neighborly customer service vibe from the masked staff whose smiles you can feel, even if you can't see. There is a relaxing hum to the place, no matter what time you stop by.
For Smith, being pet friendly just made sense. "People's pets are part of their family … so it just makes sense to welcome all of them into the store and it makes for a pleasant, neighborly environment."

Kat and Graham Lubinsky, Twins Ace regulars with their bulldog, Apollo, couldn't agree more. After treats and a visit with staff, the Lubinsky's shop for everything from candles to plants and other items to fix up their apartment. And Ace has become the place to stock up on cleaning supplies and masks. Kat says Twins Ace is more than "just a hardware store," carrying work from local artists and products from local companies.
Because going to Twins Ace is a fun experience for the whole family, Kat and Graham are more inclined to drop by Ace for needed supplies, rather than place an Amazon order, according to Kat.
Twins Ace's welcoming pets policy and delicious dog treats has made it a critical stop on daily walks, according to pet mom Anne Jacobs Hayes. Her bernedoodle, Rosie, leads the way for regular visits for treats and attention from her favorite staffers, you know, the ones with the treats. Jacobs Hayes and her husband, Ben, generally stock up on home repair merchandise and firewood at Twins Ace. But Jacobs Hayes mentioned that there is also a great gift aisle, which can come in very handy.
Jacobs Hayes says what strikes her most about Twins Ace is how friendly and knowledgeable the staff is and how they go out of their way to remember Rosie, Anne and Ben. According to Jacobs Hayes, "They are truly the place with the friendly hardware folks."
Twins Ace of Arlington is located at 2001 Clarendon in Arlington. And you can visit their equally-pet-friendly location in Fairfax at 10310-B Main St. You can follow Twins Ace on Instagram at @twinsace_istheplace and Facebook at @twinsacehardwarearlington And, if you are interested in adding to your daily diet of adorable dog pics, you might want to follow @apupnamedrosenylund and @goodapollothebully.
Joan Brady is an award-winning Connection Newspapers columnist and local photographer specializing in pets, children and families and contemporary business portraits.
ArPets is a weekly feature for highlighting the well-loved pets of Arlington as well as animals who are available for adoption. If you or your dog, cat, iguana, bunny, rat or any other pet, has an interesting pet story to tell, email me at joan@joanbradyphotography.com.