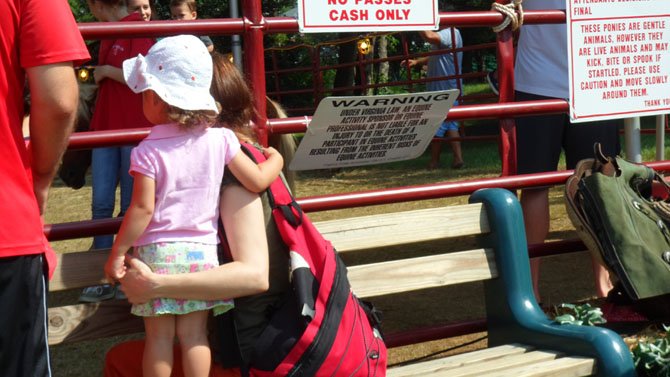 Arlington — As the squeaking of sneakers on a basketball court and the rhythmic sounds of a competitive ping-pong game played in the background among the sounds of a busy Monday evening in the Gunston Community Center, Christopher Zimmerman, a member of the Arlington County Board, stated that his favorite part about the Arlington community was that it, indeed, was a community.
"It's a combination of what people talk about liking in small towns," Zimmerman said, "with one of the biggest metropolitan areas. It has a small-town feeling, with exposure to great diversity."
Zimmerman, an Arlington resident since 1979 and first elected to the county board in 1996, oversaw the board's "Open Door Monday" session last week as part of Chair Mary Hynes' Participation, Leadership and Civic Engagement, or PLACE, initiative. Each week, these sessions are held to welcome and encourage county residents to discuss any issues or concerns they might see in their own neighborhoods, or simply to learn what's going on within their community.
In Zimmerman's opinion, the board's greatest accomplishments this year included the continuation of the Columbia Pike Plan, an effort that combines both public and private development to create a vibrant place to live and work, and creating a broader landscape for housing availability, while ensuring that no current residents would have to move. Zimmerman was also proud of the newly adopted regulations to the county's sign ordinance, eliminating distracting signs considered to be hazardous or a public nuisance, and creating a more effective use of them.
While discussing the matter of a potential high-rise being built in her community, one attendee of Monday's session expressed concern that it could potentially change the feel of the community. Zimmerman expressed his belief that no matter what would be constructed in these places, Arlington's main goal would be to create a neighborhood. "That," he said, "is the heart of the whole thing."
ARLINGTON IS ESTIMATED to have a population of more than 200,000 people, with a forecasted population of over 250,000 for the year 2040. This growing urban community prides itself on the basis of diversity, providing homes, jobs, and last, but not least, fun, for residents from all different walks of life.
The 36th Arlington County Fair was held at the Thomas Jefferson Community Center this year from Aug. 8-12. The event hosted both indoor entertainment and vendors, and outdoor events including rides, sporting events, a magician, performances by the Harlem Wizards, pony rides and racing piglets.
"We were really proud to have more local programming on the outdoor stage, on the turf field, from WalkArlington (a youth-focused mini-walk), and the Animal Welfare League of Arlington," said Tiffany Kudravetz, chairperson of the Arlington County Fair Board of Directors.
Kudravetz has been a member of the Fair Board since 2008, after volunteering at the event for the three years prior. She was elected chairperson in 2010.
"When I was growing up, I really enjoyed going to the fair held at my elementary school," Kudravetz said. "As a volunteer, it's great to give back to my community in a fun and meaningful way."
The fair is a non-profit organization and all volunteer run. Sponsors for this year's event included BB&T, Comcast, the Virginia Hospital Center, Dominion Virginia Power and many more. Participating vendors included a diverse combination of products and services, such as the Arlington Food Assistance Center, the sheriff's department, "Flourishing After 50," voter registration tables, jewelry booths and home improvement tables.
Awaiting the pony ride, resident Edina Komlodi, with her daughter, explained what she considered to be her favorite part of living in Arlington. "There are many," she said. "We love living here. It's a great location. We can metro everywhere, and my husband can even bike to work."
EVENTS LIKE THIS, as well as the Central Library's Movies by Midnight, attract residents and visitors to the Arlington hot spots.
For two nights, the Central Library promoted their "Dream Big" Summer Reading theme by playing a movie on the field facing Washington Boulevard, encouraging families and friends to bring a picnic and blanket and enjoy a movie under the stars.
Rachel Harlen, a library staff member, explained that although these movie nights were just a trial run, she felt as though they had been a successful way to promote the 2012 summer reading program.
Even with the threat of rain, movie watchers filed in, covering the grass with blankets and enjoying their complimentary popcorn.
D.C. resident Abby Litzer, along with out-of-state guest, Michael Bilancione, attended the event and snagged a front row seat. "Events like this bring people from the district," Litzer said. She and Bilancione agreed that the slightly slower pace and smaller crowds of Arlington were a welcomed change to the hustle of D.C.