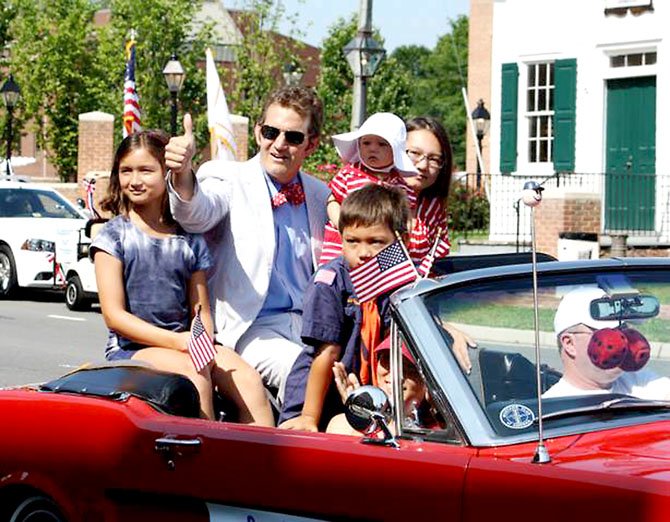 Virginia State Senator Chap Petersen (D-34) represents central and western Fairfax in the Virginia State Senate. He grew up and lives in Fairfax City.
Q: What tips do you have for someone getting to know your community?
A: Get involved! Join an athletic league, a house of worship or an advocacy group. There are hundreds to choose from. You can't make friends sitting in front of a TV.
Q: Do you have a favorite restaurant or mom-and-pop bakery?
A: P.J. Skidoos in Fairfax. I'm a steak and potatoes man.
Q: Do you have a favorite park or bike/hiking trail?
A: I enjoy going for long runs or bike rides with my kids on the W&OD Trail in Vienna.
Q: Is there an organization or group you would recommend to newcomers?
A: Leadership Fairfax is a great resource for those "Type A's" who want to be involved in leading Fairfax County. If you're an athlete, my rugby team, the NOVA "Old Boys," is always looking for players over 35 years old.
Q: Any government service, website, blog, etc. that you think is particularly useful to newcomers?
A: Mine, of course! My constitute website is http://www.fairfaxsenator.com/ and my blog is http://www.oxroadsouth.com/. Otherwise, check out http://www.vamegaprojects.com/ for info on local transportation projects—it has a ton of information.
Q: What are the must-see/must-do events or festivals coming up in your community?
A: The annual St. Mary's Labor Day Picnic is a great community tradition. (And don't miss the "Blessing of the Tools" which takes place that morning.)
Q: If you were crafting a "bucket list" of places to see, things to do before you move out of town, what would be on it?
A: 1. Visit the Manassas Battlefield. If possible, take a guided tour.
Have a drink in Old Town Alexandria (that's where I met my wife).

March in the Fourth of July Parade in Fairfax.

Have a chili dog at the Vienna Inn.

Ride a Harley Davidson in the Memorial Day "Ride to the Wall."