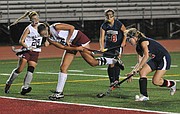 Members of the Mount Vernon and Thomas Jefferson field hockey teams were on fumes Tuesday night as they ran around the field near the end of the second 15-minute overtime period in the Conference 13 tournament semifinals.
With less than a minute remaining before the match went to strokes, TJ's Katie Zechman scored off a penalty corner and gave the Colonials an upset victory over the top-seeded Majors.
No. 5 seed Thomas Jefferson knocked off Mount Vernon 2-1 on Oct. 28 at Mount Vernon High School. The Colonials advanced to the tournament championship game and secured a berth in the 5A North region tournament. The Majors will have to win the tournament's third-place game in order to keep their season of resurgence alive.
Mount Vernon players cried and hugged following Tuesday's game, knowing their shot at a conference championship had ended in dramatic fashion. Now the Majors have to regroup before hosting No. 2 Edison on Friday, Oct. 31 to determine which will be the third and final team to advance from Conference 13.
Mount Vernon defeated Edison 5-0 during the regular season on Sept. 4.
"I feel like the girls should be very confident going into Friday," Mount Vernon head coach Jess Edwards said. "I don't think they should hang their heads about tonight's game. I think TJ should be proud of themselves. They had a good game, they played well. I don't think that really takes away from the season our girls had."
How do the Majors bounce back?
"Mind over matter," senior captain Maggie Heltzel said. "You can't let a loss get you down. You have to push through it."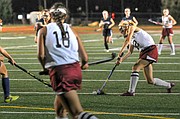 "It will make us work harder," senior captain Amber Sable said, "because we know we're playing for a spot in regionals."
TJ led 1-0 at halftime after a goal from Carolina Hatanpaa with 10:34 remaining in the first. Mount Vernon senior Renisha Wiggins' goal with 23:27 left in the second half tied the score at 1-all.
In the second overtime period, TJ had three corners and capitalized on the final one to end the game.
"We should have utilized our subs," Heltzel said. "We have a strong team. It's not just our starters that can put in work, it's everyone. I believe that we should have switched them out more, especially in that last 15 minutes because everyone was dead."
A perennial district title contender, Mount Vernon experienced a down year in 2013, finishing 5-13. The Majors reached the third-place game of the Conference 13 tournament, but lost to Marshall and fell short of regionals. This year, the Majors have bounced back and are 11-5-2 after Tuesday's loss.
"It's just going to motivate us," Heltzel said of the loss to TJ, "to go in harder and go further in regionals."
Mount Vernon midfielder Sable, forward Wiggins, forward Jess Miller, defender Shenice Brunson and goalkeeper McKenzie Moore each earned first-team all-conference honors. Forward Isabelle Norton, midfielder Lindsay Gardiner and defender Sarah Donnelly were named to the second team.
Edwards was named Coach of the Year.