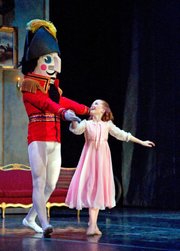 Potomac — Maryland Youth Ballet's professional students and children from the academy are preparing for the 23rd season of The Nutcracker, choreographed by Principal Michelle Lees. With costumes by Tensia Fonseca and Judy Hansen and sets and scenery by Jeffrey J.Grandel the production brings together one of the most dynamic creative teams in the area. Many Sugar Plums and Nutcracker Princes, as well as other performers from past MYB Nutcrackers now dance for renowned professional companies across the country.
There is something for everyone in this engaging, classic version of The Nutcracker — giant mice, dancing snowflakes, cute little Ginger Snaps peeking out of a huge Mother Ginger skirt, a lovely Sugar Plum dancing with her handsome Prince, and many more characters in the Kingdom of Sweets. This year MYB will debut a new Christmas tree adorned with beautiful ornaments and sparkling lights that grows to high heights.
MYB also presents The Mini-Nut, an abbreviated version designed to introduce children to the magic of this family favorite. This holiday tradition with soaring music by Tchaikovsky promises to hold the attention of even the youngest theatergoer. Come see the Nutcracker turn into a handsome Prince, see the battle between the Nutcracker and the Seven Headed Mouse King, watch the sparkling Snow Queen float through her kingdom, and see the beautiful Sugar Plum Fairy and the magical residents of The Kingdom of Sweets. Suitable for all ages, this version is less than an hour and performed by cast members from MYB's full-length production.


The Mini-Nut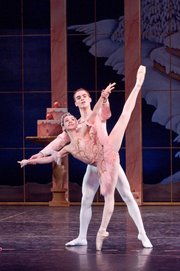 Dec. 8-9 at 11 a.m., 1 p.m., and 3 p.m.
Montgomery College Cultural Arts Center
Takoma Park/Silver Spring Campus
7995 Georgia Avenue, Silver Spring, MD 20910
Tickets are $18 adults, students and seniors; $12 children 12 and under
Available in advance at MYB studios or by mail:
926 Ellsworth Drive, Silver Spring, MD 20910 (Cash or Check only)


The Nutcracker
Dec. 14 and 21 at 7 p.m.
Dec. 15,16, 22 and 23 at 1 p.m. and 5 p.m.
Robert E. Parilla Performing Arts Center
Montgomery College Rockville Campus, 51 Mannakee Street
Tickets are $28 adults; $23 children, students and seniors in advance; at the door, $33 adults; $28 children, students and seniors
To purchase, call the Box Office at 240-567-5301 or online at www.montgomerycollege.edu/PAC
More like this story