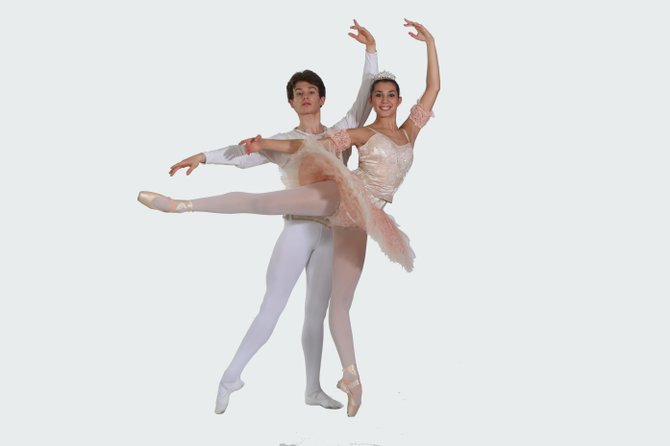 The Ballet Arts Ensemble of Fairfax will perform "Nutcracker in a Nutshell," a condensed version of the classic holiday ballet, on Saturday, Dec. 15 at 3 and 7:30 p.m., and Sunday, Dec. 16, at 3 p.m., at the Rachel M. Schlesinger Concert Hall at the Northern Virginia Community College, Alexandria campus, at 3001 North Beauregard St. Tickets are $22 in advance by calling 703-273-5344; tickets will also be available at the door.
Choreographed by Debra Savage, the show features company dancers from the Ballet Arts Ensemble (BAE) and scores of young children from the Fairfax dance school, the Center for Ballet Arts. Special guest artist Cameron McCune of Raleigh, N.C., will be paired with BAE dancer Kailey Leinz of Burke, for the Grand Pas de Deux.
McCune, 17 and a high school senior, was the 2012 Youth America Grand Prix (YAGP) silver medalist. Leinz, also 17, is a senior at Lake Braddock Secondary School. She has trained with Savage at the Center for Ballet Arts in Fairfax since the first grade and plans to continue her ballet training next year in a university dance program.
Leinz also attended summer intensive programs at the School of American Ballet in New York City and at the Pacific Northwest Ballet School in Seattle, Wash. This will be her 11th year performing in the Nutcracker. In addition to dancing almost all of the children's roles over the years, Leinz has danced the soloist roles of Clara, Fairy Queen, Reed Pipe, Dew Drop, Arabian and Snow Queen. This will be her first time dancing the role of the Sugar Plum Fairy.
"I have wanted to be the Sugar Plum Fairy since I was a little girl, so I am thrilled," she said. "Getting to partner with Cameron makes it even more exciting. He is so incredibly talented." Leinz is also proud that this will mark the first time that both of the lead dancers in the Grand Pas de Deux in the Ballet Arts Ensemble's production of "Nutcracker in a Nutshell" are teenagers.
"Almost all of the Nutcrackers you see in our area use professional dancers for the roles of Sugar Plum Fairy and the Cavalier," said Leinz. "Not only are we not professionals, we are both only 17 years old!"
For more information, contact www.thecenterforballetarts.com or call 703-273-5344.